Looking for the best ironing mat?
Look no further. In this post, I'm going to list down the best ironing mat or pad that's available to buy in 2022.
The main difference between an ironing board and an ironing blanket is the space. Ironing mats requires way less space than ironing boards.
Also, the price differs a lot. The portability of an ironing mat is another reason people buy these products.
Best Ironing Mat
Here is the list of the best ironing mats for 2022: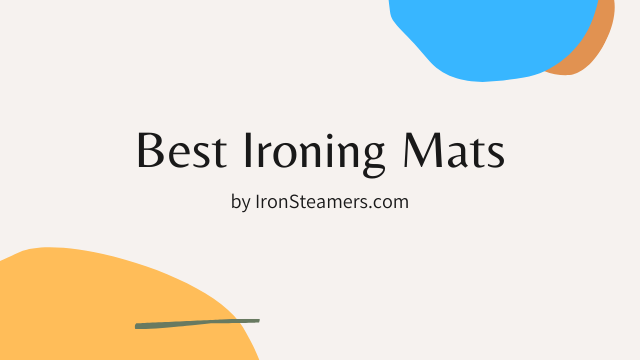 If you're a laundry expert or a quilter then this mat is one of the best you can go for. It comes in three different sizes – 9″ x 9″, 17″ x 17″ and 17″ x 24″, you can choose the suitable one according to your needs.
I own the 17″ x 24″ size and it helps me to iron any clothes that I want.
Performance-wise, this Wool Ironing Mat retains heat, so when you iron your fabric it's like ironing from both sides at the same time. This makes it faster to press and results in flatter seams.
The manufacturer claims it is made with 100% New Zealand Wool which is recognized as the finest in the world and known for its dense wool fibres.
This wool mat is smooth, dense and free from ridges which results in a professional ironing experience.
Portability is another important feature you should be concerned about and this mat with the  1/2″ density provides extra protection for any ironing surface.
Try your Ironing Mat at any location or anywhere in your home workspace.
Want to buy the best ironing mat? This magnetic ironing mat from Houseables Store is one of the largest products in dimension.
Larger means better ironing support and less fabric management.
Features:
Versatile
Heat resistant
Grey color
Magnetic ironing mat
Its padding is made from a high quality quilted polyester-cotton fabric that can withstand high heat between 250°F – 300°F.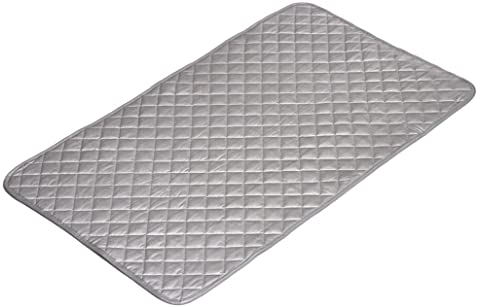 Best Magnetic ironing mat– this type of ironing mat helps you hold the mat into any metallic surface so that your ironing never get spoiled. Believe me, as a quilter or everyday user it does help a lot.
Each corner of the mat contains a heavy-duty magnet that attaches itself to any metallic body surface for a secure hold while you iron.
The mat measures 32 ½" x 19" so it will fit completely atop most standard-sized washers or dryers. Its lightweight but flexible design allows the mat to be rolled up, folded flat, or hung up between uses for space-saving storage.
You can also use it as a convenient padding protector for your washer or dryer tops, keeping the surface safe from dust, scratching, and other minor surface damage.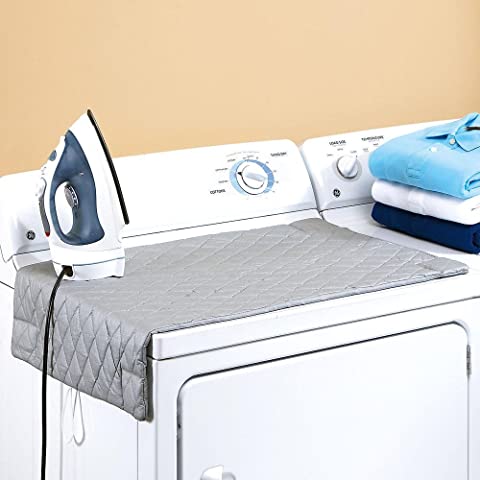 This ironing pad is from the Innovative Home Creations brand. What I liked about this ironing pad is the iron stand. The iron stand is a must-have feature for an ironing mat.
Features:
100% Cotton
Grey color
Proper heat insulation
Easy to use
This is ironing mat is made of pure cotton. This product also includes an iron resting place which is useful while ironing a lot of clothes.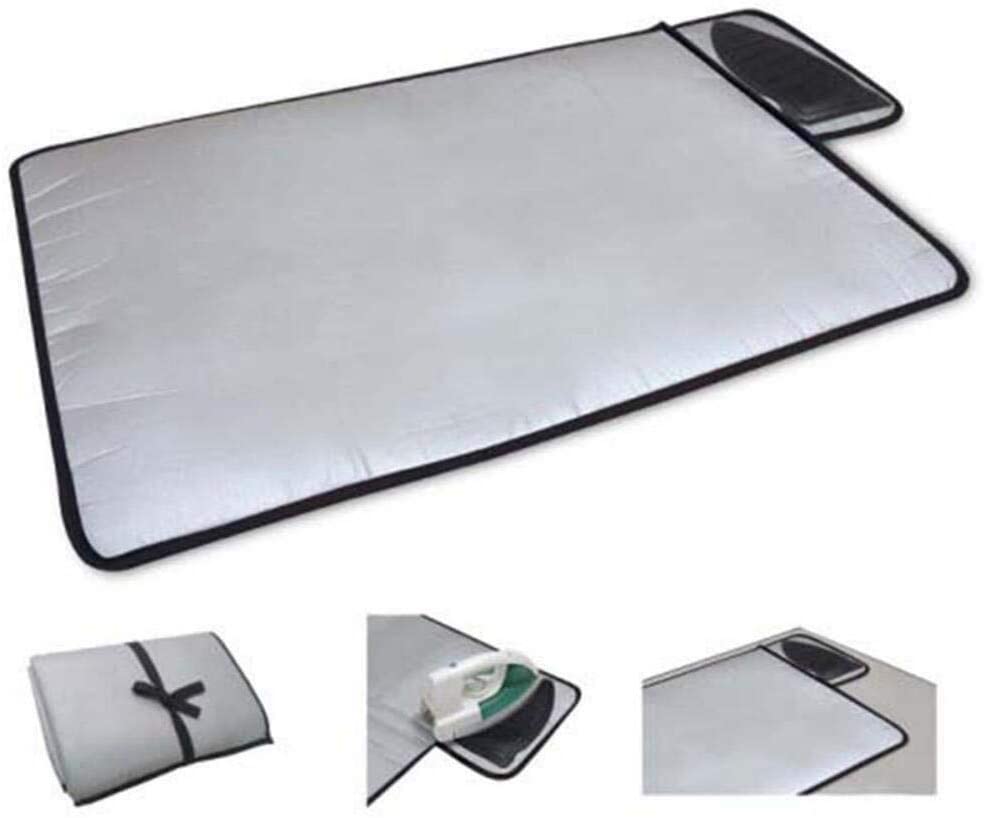 Personally, I'd not recommend placing the iron on the ironing mat for more than 30 sec which can result in burnout.
The proper heat insulation is required when ironing over a wood or woollen surface. You can add a towel below the mat and start ironing your clothes.
Heat insulation is OK, but not so great when ironing for a long time.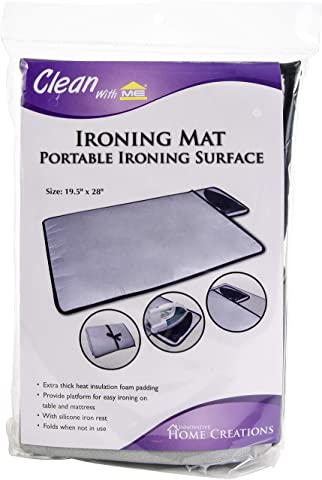 If you're looking for a tabletop ironing mat or ironing board cover then this mat is worth checking out.
Bukm Ironing board cover or mat is an easy to use, magnetic laundry pad to buy.
Features:
Use as ironing board cover
Magnetic laundry pad
33.5" x 19"
Foldable and portable
Easy to use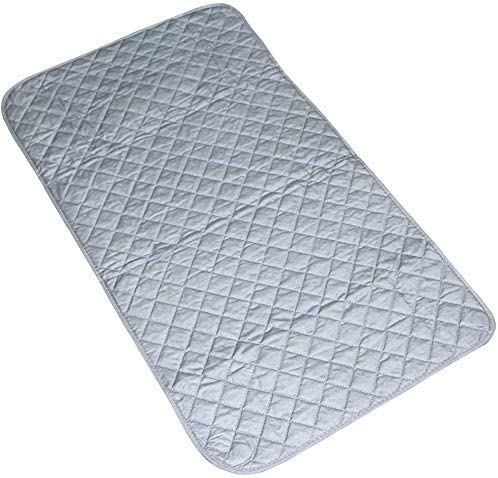 Another great product included in this list is from BNYD Store. This is the best portable ironing mat as the dimensions are 18" x 31" enough for clothes ironing.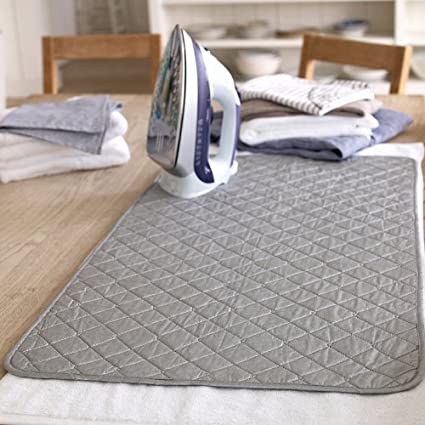 Features:
Dimensions: 18" x 31"
Ironing board replacement
Can be used on any flat surface
Magnetic Stability
While most of the irons occupy larger space when folded, it requires less space on your travel backpack or storage area. The dimensions are 18" x 31".
Another important factor is heat management. It can handle up to 500 F. However it does feel on the other side of the mat.
The magnetic end ensures that you are able to use it with complete stability without any sliding problem.
A better option would be a tabletop ironing board which cost similar to an ironing mat but does a better job at ironing. Or use an over the door ironing board for better storage purposes.