Looking for a tabletop ironing board?
In this article, we have listed some of the best budget-friendly tabletop or mini ironing boards available on the market.
Tabletop ironing boards require less space than normal large ironing boards, making them travel-friendly and easy to store.
Best Tabletop Ironing Boards
You can also check out other over the door ironing boards, steam generator ironing boards, or ironing board alternatives like ironing mats.
Whitmor tabletop ironing board dimension is 32 x 12 x 3.37 inches (LXWXH). It is one of the best compact tabletop ironing boards to choose from.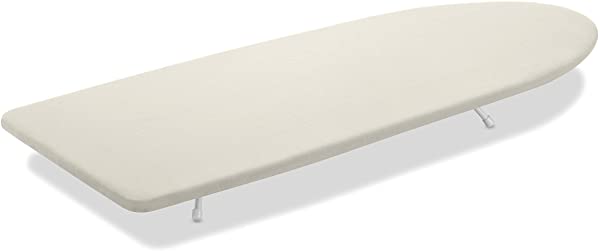 The board weighs 4 lbs and it comes with a 1-year warranty on it.
The Whitmor ironing board is easy to use and folds flat for easy storage.
The ironing board is made of pressboard type of materials. It can be used on a kitchen countertop or washing machine.
The ironing board has a 100% pure cotton cover and comes with 5 mm foam padding under it.
The legs come with anti-skid pads for enhanced stability and prevent scratches on the surface. The anti-skid pads are a hard plastic cover.
Whitmor is a premium brand and this ironing board is best for small apartments, and college dorms. For the premium quality, it justifies the price.
Cons:
It is not a wooden ironing board.
Legs are thinner.
This wooden tabletop ironing board from the Honey can Do brand is an affordable option. The dimension of this board is 31.5 L x 12.5 W x 1.5 H inches.

The model has small legs with anti-skid protection material. The wooden board is heavy and sturdy in nature.
It comes with a cotton cloth cover and has very thin padding (2 mm at max). At this price point, we think that 4 mm padding should have been given.
A normal user who lives in small apartments or college dorm rooms should consider this ironing board.
Cons:
Wooden quality could be better.
Padding is not given.
HOMZ Anywhere ironing board dimension is 36 L x 13 W x 8 H inches. You can place it on your kitchen countertop easily.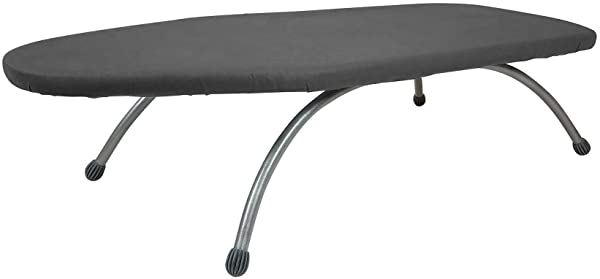 The sturdy curved legs fold inward and fold flats after ironing. The legs have anti-skid covers to protect them from sliding.
The ironing board has a wire mesh design at the back and at the front, it comes with 100% cotton with a polyurethane foam pad.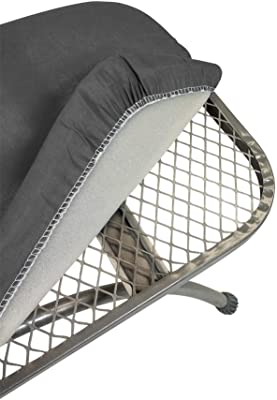 The model weighs around 3.89 lbs.
Cons:
There is no locking mechanism to prevent slipping of the legs inward.
The padding and cover could have been better.
Price a little bit on the higher side.
Sunbeam is a well-known ironing brand. This Sunbeam tabletop ironing board has the dimension of 23.5 x 14.5 x 7.5 inches.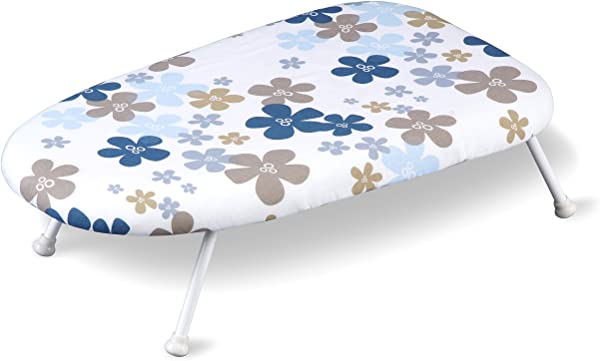 The ironing board is lightweight in nature around 3 lbs.
The backside has a wire mesh design with a sturdy metal frame. The board legs are anti-skid protected.
The cover is removable and washable.
The Storage Maniac tabletop ironing board dimension is 23.62 L x 14.17 W x 7.08 H inches. It is more comprehensive but the length is small, best for sewers and quilters who require a wide board.
It is the best tabletop ironing board to iron shirts and other items that need more space while ironing.
It comes with a removable and washable cover made up of 100% cotton and a thick felt pad of mini ironing board to provide a resilient and roomy ironing surface.
The board is sturdy in design and made up of good quality plastic pressboard type material, more durable than particleboard.
Honey-Can-Do tabletop ironing board is one of the cheapest ironing boards that are worth your hard-earned money.
The main benefit of this ironing board is that it comes with a retractable iron rest. Makes your ironing job easier.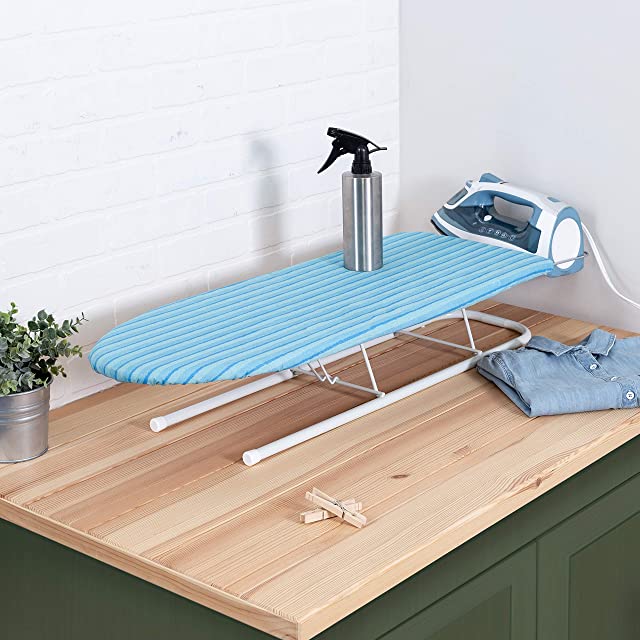 Next thing you should know about this model dimensions: 32L X 12W X 6H. The model is enough for budget ironing needs.
The ironing board cover is made of poly cotton and it is breathable. However, the padding is less. It weighs around 4.8 lbs.
When you look at this Minky Ergo plus ironing board for the first time, it's kind of a sport type of thing with all bright colors and bold design.
But when you start using this board, you'll forget about other ironing boards that you've used in the past!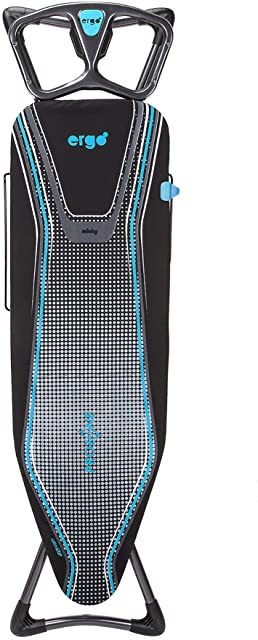 The dimension of this board is around 48 x 15 inches. It has a steam generator iron rest like the Honey Can Do model.
It has a heat reflective cover of Prozone layer which helps to retain the heat.
It comes with a cord tucking function called Flex Guide. The flex guide prevents the iron cord from tangling and snagging and can clip into your chosen position on the board.
This is a full-size ironing board that I recommend while this post is for tabletop ironing boards. It's too good to resist posting this here.
This tabletop ironing board for steam generator irons. You can also read our best steam generator irons guide from here.
Brabantia is a well-known ironing brand. The dimension of this model is 40 x 12.2 x 2.01 inches. It weighs around 5.74 pounds.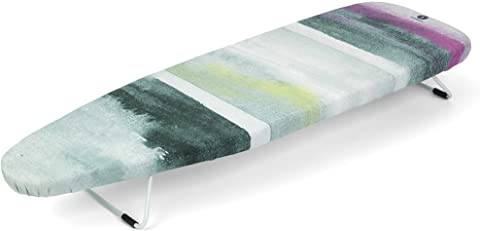 The Brabantia tabletop ironing board is sturdy and is best for regular ironing experts and quilters.
It comes with a 100% cotton cover with a 4 mm foam padding. The backside is a steel mesh design.
The model is made of corrosion-free durable steel. It has a retractable hook for storing it in a hanger.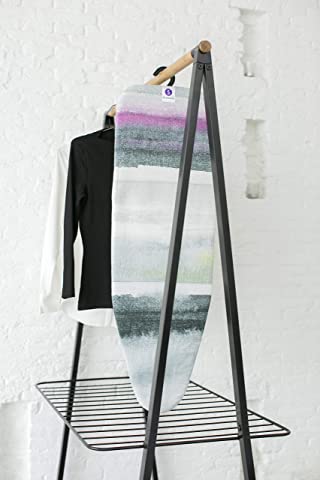 The legs are protected by an anti-slip cover made up of plastic. It comes with 10 years manufacturer's warranty.
How to Choose a Tabletop Ironing Board?
You should look at the below points before purchasing a tabletop ironing board.
#1 Size
First, you need to check the size of the board. Some model comes with large width (14 inches), the standard size is 12 inches. Small tabletop ironing boards will take less space than large boards.
#2 Anti-skid Feet
To prevent slipping, anti-skid feet are a must for your tabletop ironing boards. Anti-skid caps are made from PVC plastic.
#3 Ironing Board Covers
The ironing board cover is another factor to look for. Check if your ironing board cover is made of pure cotton or poly cotton. Pure cotton is recommended for better heat dissipation.
Also, remember to check if your cover is washable or not.
Conclusion
We hope that you found this article on the best tabletop ironing boards helpful.
Whitmor Tabletop Ironing Board is our top pick.