A wool pressing mat is a necessity for a quilter. It helps to retain heat for a longer duration and provides stability when pressing the fabric.
Not only are they ultra-convenient, lightweight & portable, but they are the best mat surface for pressing your quilting fabrics.
In this article, we've reviewed the best wool pressing mat for quilting needs.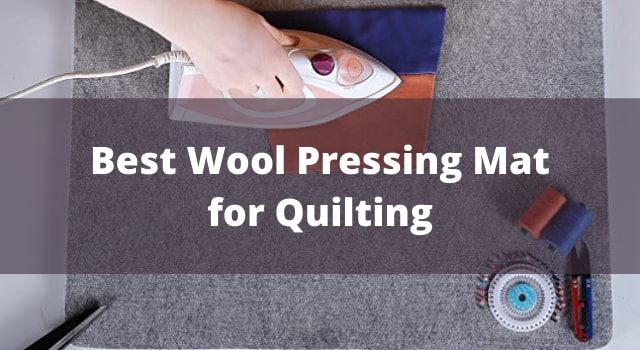 Best Wool Pressing Mat for Quilting
Best Wool Pressing Mat for Quilting:
If you're looking for the best wool pressing mat in 18″x24″ size, then this is our first recommendation. The Saving pressing mat comes in two different sizes:
18″x24″ -Medium
60″x22″ -Extra Large
These two sizes will fit your everyday quilting needs without a hassle.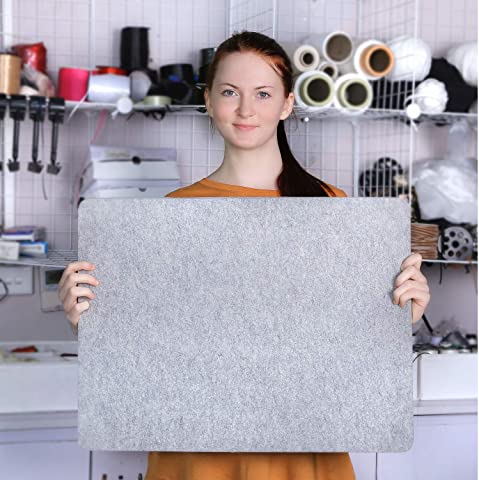 The mat is made of 100 % original wool with dense interlocking fibres preventing stretching & making your quilting ironing an easy, fast, most efficient task.
What it lacks is a small size mat, other than that this Savina wool mat is best for quilters and comes under the $50 range for 18×24 at the time of publishing this post. You can check the current price on Amazon.
New Zealand 100% wool mat is from the Precision Quilting Tools brand. They are known for their helpful quilting tools. This pressing pad comes in 3 different sizes very small, small and medium.
9″x9″ -Very Small
17″x17″ -Square Medium
17″x24″ -Medium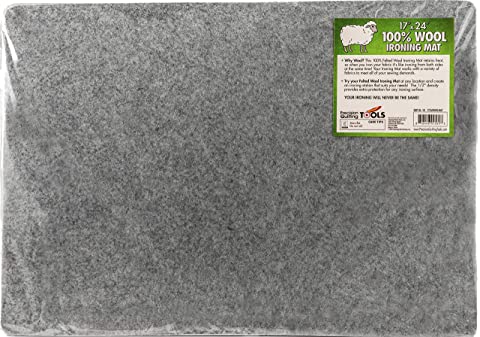 Made with 100% New Zealand Wool which is recognized as the finest in the world and known for its dense wool fibres.
The Wool used is ethically sourced and Chemical Free! Our superior wool mats are smooth and free from ridges which results in a professional ironing experience.
This wool mat retains heat properly and will keep your fabric stable while ironing to minimize stretching. This provides a smooth quilting experience.
Even you can use this mat for projects where yarn and embroidery can be pinned into the wool for easy blocking. This wool mat is best for small projects and beginner quilters.
This wool pressing mat is made in the USA with a USA customer support team supporting jobs in the area.
Some users reported that it isn't 100% wool and left gunk in the soleplate while ironing the wool in the cotton temperature settings.
Wool Pressing mat Buying Guide
When buying a wool pressing mat, check the material, dimension, weight & price. 100% wool mats are costlier than other materials so don't get fooled by the false product description.
Some of the products reviewed in the above section are made of 100% wool, some just claim about the same. Don't get fooled by the price. Original 100% wool will smell a little bit at first but this will quickly disappear.
There is a variety of wool mats of different sizes and weights. The most popular dimension is 18×24 inches or 17×24 inches. They can weigh anywhere between 0 – 2.5 pounds.
A lightweight wool mat enables you to carry it. Thus making it very useful for travel users.
When using your wool mat for the first time use low iron temperature settings. Thereafter you can use medium temperature or the wool setting of your iron to press fabric.
100% Natural wool is more expensive than processed wool, so don't be fooled by cheaper deals.
Getting wool pressing mat is definitely a good investment. Not only will it last for years, but the wool allows heat to infiltrate and pass through the pressing pad, cutting your pressing time in half.
Taking Care of Wool Mats
Here are some tips to follow for beginners:
Always have your iron set to WOOL or MEDIUM HEAT for best results.
Do not leave your iron on the Pressing Pad for too long.
Because of how wool absorbs moisture from the air, always use your Quilter's Pressing Fleece on a water-resistant surface.
The Pressing Pad is made of wool, so be sure to store it in a well-lit room or an airtight container.
For someone who is sensitive to the wool fragrance, the wool may create a scent when used with steam. You may be able to smell a slight odor in the beginning. However, it will disappear soon after your ironing is done.
Most modern irons use pressurized steam, and since the wool mats are porous products, it is quite likely that steam will go through the mats. When you iron on a wool mat it's like ironing from both sides, so we recommend using a dry iron for best results.
What to Put Under a Wool Pressing Mat?
Even though wool pressing mats are the best alternative to ironing boards they have some limitations. The wool will absorb the steam with the heat. It is possible for the moisture from the steam to make it all the way through the surface below.
You can use a quilting cloth under the wool pressing mat and prevent damaging your wooden surface.
Frequently Asked Questions
Are wool pressing mats worth it?
Wool pressing mats are a good investment for quilters. Your expensive or heirloom quilting fabrics will be safe with a thick wool pressing surface. Plus it will save your pressing time.
What do you put under a wool pressing mat?
Wool absorbs moisture from the air and using steam it will be absorbed too. You can use a water-resistant surface or put a towel under your wool pressing mat.
Do wool pressing mats smell?
100% natural Wool Pressure Mat has a slight smell of wool in the beginning; however, there is no smell after using it twice. The odor will not be transferred to your fabric.
How do you wash a wool pressing mat?
You can rinse any of them out in your sink or bathtub with cold water and hang them dry. Store them after they are completely dry. Don't rough it up or agitate it and definitely don't put it in your washing machine.
Can I make my own wool pressing mat?
Yes, you can make one by following DIY videos. Though remember you'll not get the same result that you get with a professional wool pressing mat.
Are ironing Mats good?
Ironing mats are completely different from the wool pressing mat. A wool pressing mat provides support for your quilting needs while ironing mats are a cheap alternative to ironing boards.
Conclusion
I hope that you've found the best wool pressing mat for quilting needs. I personally recommend the Savina wool pressing mat as some people are saying that New Zealand wool pressing mats are not 100% wool.
Both of them is good when I tested them.