Steamers are much better than steam irons. If you're looking for the best Rowenta steamer then this article is for you.
Steamers helps you to clean different types of garments, linen, curtains, drapes, bedsheets easily. They are easy to use and remove wrinkles much faster than a normal steam iron.
Also, there is a step by step tutorial of how to use a Rowenta Steamer at the end. Now let's check out top 10 best Rowenta steamers of 2021.
Best Rowenta Steamer 2021
Best Rowenta Steamer 2021:
Rowenta DR8180 model is the new handheld clothes steamers from Rowenta. This model has a retractable cord which stored within the base after pressing a button.
Rowenta DR8180 model is powered by 1600 watt and can be heated up within 40sec & provides 40g/min steam output. The water tank capacity isn't listed anywhere. However handheld clothes steamer tank ranges between 200 ml to 300 ml.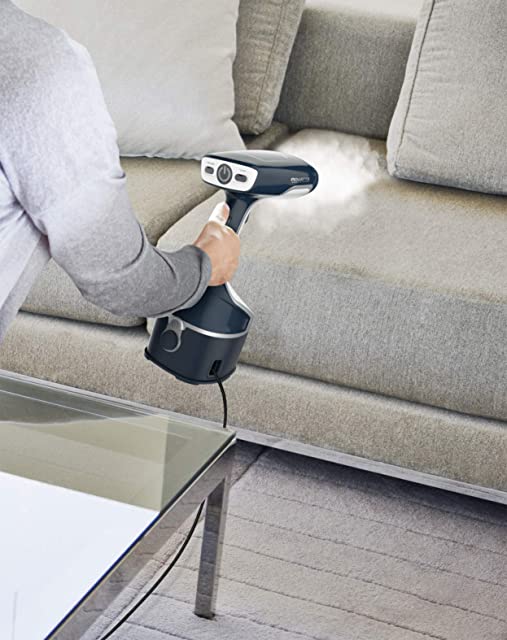 There are two modes for steam output- delicate & turbo. In turbo mode, it generates more steam output than the delicate mode. Turbo mode is best for curtains, drapes bed sheets, etc.
It has a 3-meter long cord which is retractable & stored in the base of the iron. With a 3 m cord, you can cover more area for steaming.
The model price is a little bit higher than other handheld steamers. But of course, it may provide a lot of value in the long run. Check the price here on Amazon.
Rowenta IS6520 model comes with a rotating head which can be used to clean fabrics easily.
The model has the power rating of 1500 watt and has 1-gallon water tank capacity. You can steam for approximately 1 hour without refilling it. This is the advantage of fabric steamers over a handheld steamer.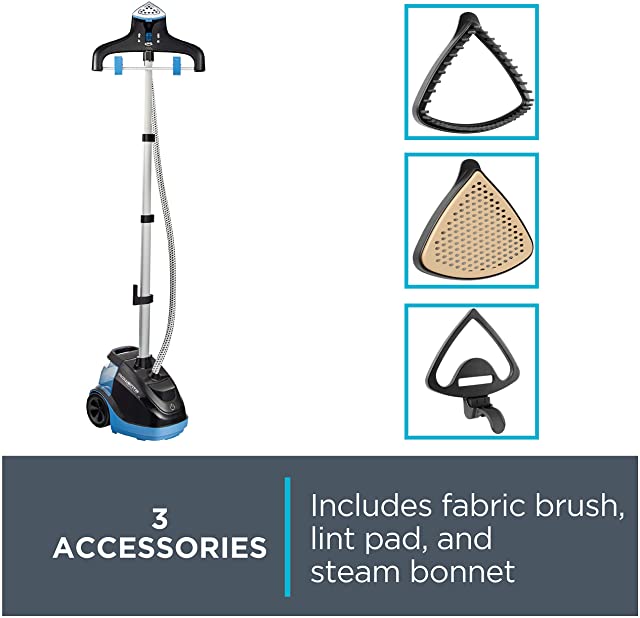 The steam output is 30 g/min. It takes around 45 sec to heat up properly and after that you can use the steamer for approx. 1 hour. You can operate the steamer with your foot making it comfortable to use.
The insulated fabric hose ensures no steam leakage. High temperature steam can be dangerous for skins, eyes & face.
The water tank can be separated and refilled. The IS6520 has two wheels for better protability reason. The model weighs 12 pounds and heavy to lift with the full tank.
It has auto shutoff, anti-calcium & self-cleaning features which makes it a great at the price range. You can check the price of Rowenta IS6520 model here on Amazon.
Rowenta Handheld Steamer Comparison
| | | | | | | |
| --- | --- | --- | --- | --- | --- | --- |
| Name | Rowenta DR6131 | Rowenta DR7000 | Rowenta DR7051 | Rowenta DR8080 | Rowenta DR8120 | Rowenta DR8180 |
| Wattage | 1150 | 1100 | 1100 | 1500 | 1600 | 1600 |
| Heat Up Time | 15s | 45s | 45s | 45s | 40s | 40s |
| Modes | 1 | 1 | 1 | 1 | 2 | 2 |
| Heated Metal Plate | x | x | x | ✓ | ✓ | ✓ |
| Retractable Cord | x | x | x | x | x | ✓ |
| Dual Volatage | x | x | ✓ | x | x | x |
| Accessories | Fabric Brush | Fabric Brush, Steam Bonnet, Door Hook | Fabric Brush, Steam Bonnet, Door Hook, Travel Pouch | Fabric Brush, Lint Pad, Steam Bonnet | Fabric Brush, Crease Attachment, Steam Bonnet, Door Hook | Fabric Brush, Crease Attachment, Steam Bonnet, Door Hook |