Are you looking for the best Rowenta steam iron?
Rowenta Irons are a good choice for most everyday users. They are reliable, have proper customer support & their product quality is good.
In this article, we have reviewed some of the best Rowenta irons that are popular and useful.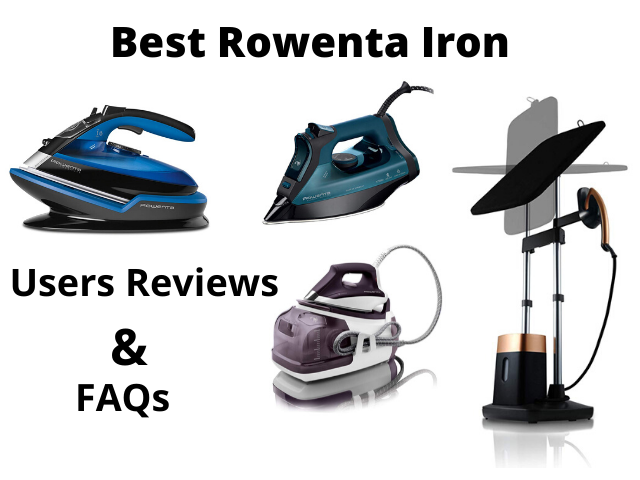 Best Rowenta Steam Irons
This buying list contains the top 10 Rowenta iron models with features, and there is a FAQ section that'll answer popular questions related to Rowenta irons.
This Rowenta model is known for its power and steam output.
It has 1800 watts of power within the iron to clean your clothes but also other household garments like curtains and blankets. Though we recommend a steam generator iron for curtains and blankets, low-budget users can opt for this item.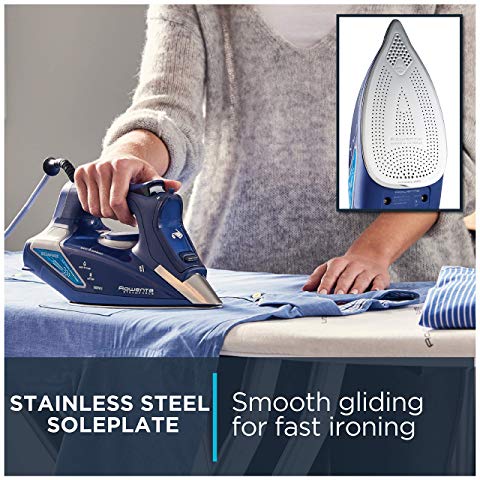 Due to its high power and electronic steam pump (also known as the Steamforce), it burst out 210gm of water steam per minute. Smoothes out even the worst wrinkles on thick garments such as suits or curtains with up to 30% more steam than irons without pump technology.
It comes with 400 micro steam holes and stainless steel soleplate that evenly distribute the heat and steam to your clothes and provide smooth gliding across different garments.
Other notable features include LED ready indicator; a smart steam motion sensor; a 3-way auto safety shut-off; an anti-calcium and self-clean system; a large 350 ml water tank, intelligent steam motion sensor.
Rowenta DW3261 is one of the most advanced Rowenta steam iron that will shock you with its pricing and features.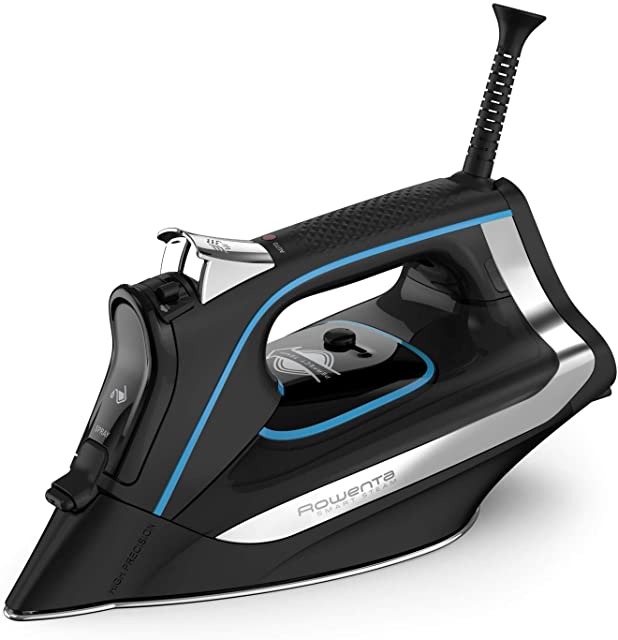 Rowenta DW3261 advanced steam iron comes with a power rating of 1725 watts. The model is fully automated and comes with temperature sensors that decide the temp range for different fabrics. So you don't have to worry about burning.
The DW3261 model has 380 steam holes and a water tank capacity of 8.5 oz. The steam burst output is 180 grams/minute to deal with the hard-to-go wrinkles.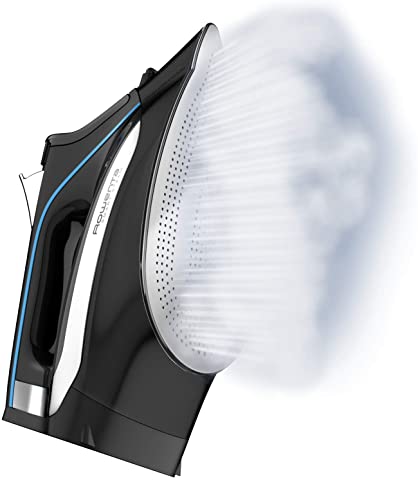 The soleplate is made of stainless steel which can be used to iron different types of fabric. Due to the automatic temperature sensor, you can use this steam iron for any kind of fabric – even on delicate fabric.
The model also has other safety features like- auto shutoff, anti-calcium & anti-drip. The model can be used as a Verticle Steamer thus easily steaming suits, dresses, blankets & curtains.
If you are looking for an iron that'll help you to iron quickly and also save on your bill then this iron may be the best fit for you.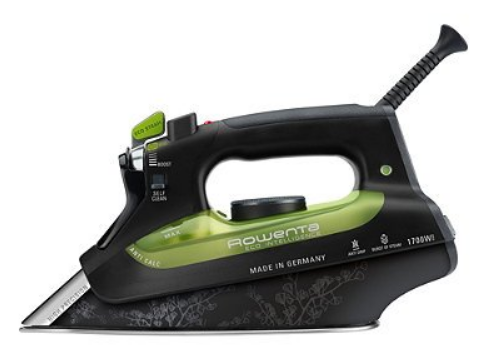 It has an ECO energy-saving mode which will save your electricity bill in the long run.
DW6080 is equipped with an exclusive steam optimization system offering 3 settings- Dry position, Eco position, and Boost position. To activate the different settings, an ergonomic rotary trigger has been designed for left and right-handed users.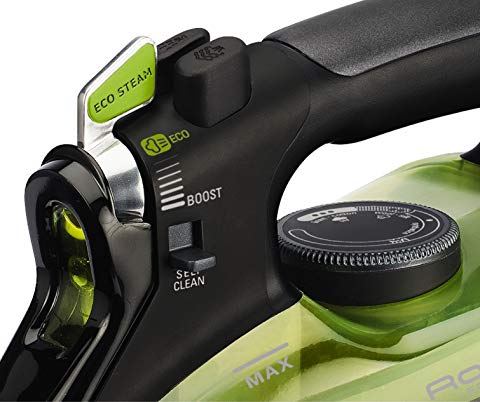 The stainless steel soleplate is round at the back to go back and forth without creases and comes with a precision tip for easy access to difficult areas, reaching narrow edges, seams, collars, and around the buttons.
It also produces a powerful 180gm/minute steam and 400 microholes for perfect steam distribution & removes wrinkles from difficult fabrics like cotton. If you're looking for a budget-friendly steam iron then this would be your best buy.
I am going straight to the point that this DW7180 is an upgraded version of the DW5080 model and comes with useful features that DW5080 doesn't have.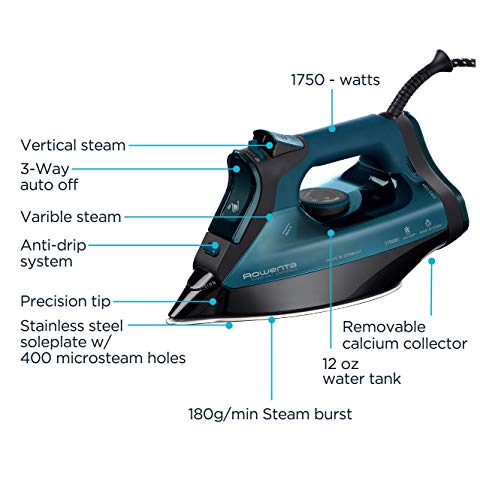 This model has 1750 watts of power, 50 watts more than the 5080 model. However, the performance remains the same.
Most of the iron users in the US have one problem which is hard water. Hard water is found in 85% of the U.S.
While the minerals won't harm your health, they can leave insoluble mineral deposits all over appliances and fixtures.
To fight the scale building up in your iron Rowenta introduces a patented technology: The Rowenta Everlast Anti-calc iron.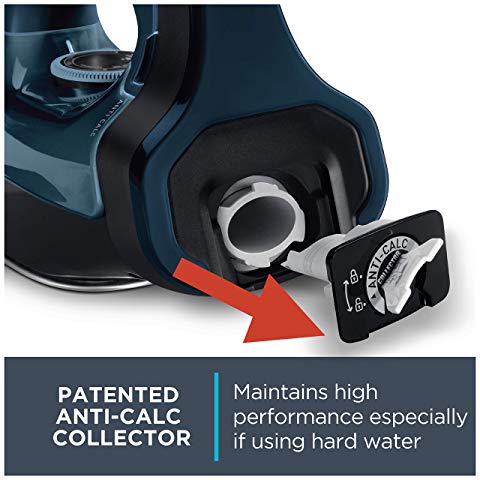 This model uses a patented micro steam feature, with 400 fully activated micro steam holes, ensuring even and optimal distribution of the steam into the fabric.
It also has a precision tip for those difficult-to-reach areas such as collars, pockets, buttons, and skirt pleats.
There are 3 steam options available: variable, vertical, and steam burst which can be adaptable to all ironing needs.
It also has standard ironing features like auto-shutoff, anti-drip, anti-calcium, and auto-clean.
It has a 12 oz water tank that gives you 30 minutes of uninterrupted steaming of clothes, shirts, and pants.
Rowenta DG8520 Steam iron with a separate water tank
One thing that is always hated by every iron user is that they have to fill the water after ironing 3 to 4 shirts or other clothes because of the small water tank. The standard water tank for most of the iron is 10-12oz.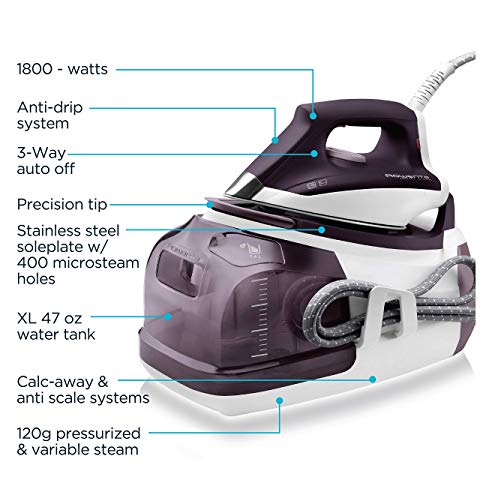 That's when you'll need a Rowenta steam iron with a separate water tank. Rowenta DG8520 model comes with a 47oz (1.38 litre) water tank that will solve all of your laundry problems.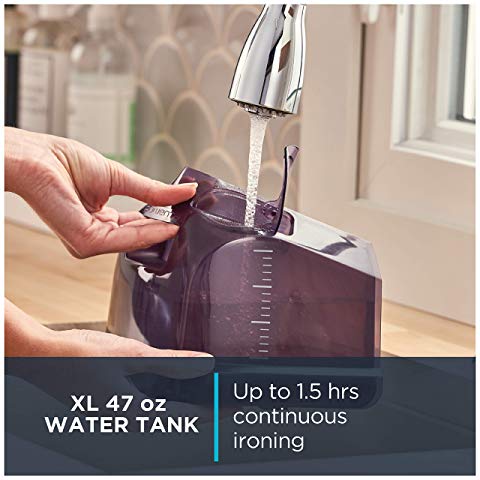 This model comes with 1800 watts of power which produce steam super fast and when your water tank is 47oz you'll need a powerful iron.
It has a separate water tank which is connected with the iron itself with a cord to supply the steam & heat in the iron's soleplate. That's what I love about this iron a separate water tank.
The soleplate is made up of stainless steel and has 400 micro steam holes like any other Rowenta iron which evenly distribute the heat all over the clothes.
Here's what an everyday user wants to say:
Lightweight and maneuverability are not what you want in a quality steamer. I have NO LEAKS, and my sewing has gone to a whole new professional level. My everyday ironing time has been cut in half and is stunning. I highly recommend this steamer!
The Rowenta DG8520 Perfect steam station heats up in just two minutes (use the Eco setting to use 20% less heating energy).
With a corded iron, you've to be extra careful while ironing. Because the cord can mess up with the recently ironed fabric while ironing other parts of the same fabric.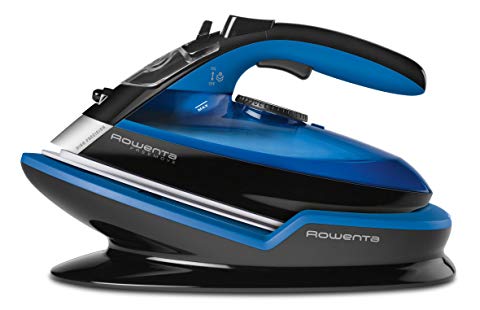 Then came wireless technology and everything changed. Rowenta DE5020 Freemove cordless iron solved problem, which uses a charging base to heat up. A smart light on the base shows when the iron needs charging.
The lightweight and agile Freemove ensures complete freedom of movement, for optimum comfort in use during an ironing session. This cordless iron features an ergonomic design to deliver quick and easy cordless ironing sessions.
With features such as an anti-drip function to prevent staining and keep linen spotless, as well as an Anti-Calc system to maintain long-lasting results, Freemove provides quick and efficient cordless ironing sessions for effortless results.
If you are looking for the best Rowenta handheld steamer then this DR8082 model is the perfect one. This model comes with a 1500-watt power supply that heats the iron within 45 seconds of the plug-in.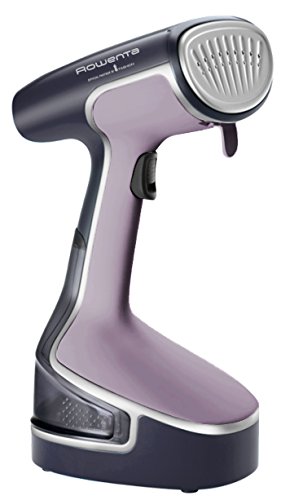 DR8082 has a removable water tank capacity of 6oz, which can be used for around 10-15 mins. It comes with accessories including a fabric brush, steam bonnet, and lint pad. The accessories come with an iron box.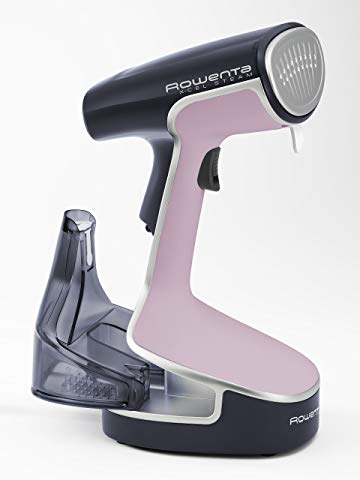 Fabric Brush: Use it to remove tough wrinkles on pants, and sweaters.
Steam Bonnet: This Will prevent water from spitting on your delicate clothes (silk).
Lint Pad: Ideal for removing lint from your garments.
This iron is especially useful for hanging garments, drapes, shirts & pants. Plus the steamer will refresh and sanitize your garments.
You can read our best Rowenta steamer guide from here to explore all the Rowenta steamers reviews.
If you're looking for a durable, professional steamer for your laundry business or everyday user, then this model is your best bet.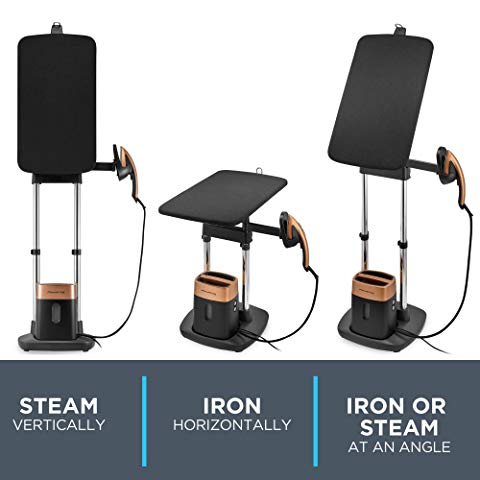 This model comes in two variants, in one iron and built-in hanger iron. The all-in-one model (QR1020) comes with an ironing board and its height is adjustable. Even it has an iron rest area where you can hang the iron and reposition the fabric for ironing.
The built-in hanger model (IS6300) comes with a hanger to steam hanging clothes, drapes, etc.
The water tank capacity is 33oz. It is a very powerful iron that's heated up within 45 seconds.

Powerful steam kills up to 99. 9% of odor-causing bacteria on clothing and fabric. Optimal heating and steaming temperature de-wrinkles fabrics, even delicates fabrics of a coat.
A portable steam wand and water tank are convenient for cleaning sofa and curtain fabrics.
This DW5260 model comes with a 1715-watt power and 400 micro steam holes which in turn wrinkle out of your clothes.
It has a water tank capacity of 11 oz which works with tap water (no need for distilled water). Though it seems less than the 47oz water tank of DG8520, also the price is a lot cheaper than the DG8520 model.
The model gives a continuous steam output of 40g per minute and a burst steam output of 100g/m for extra-stubborn wrinkles.
It has an anti-drip system for no drips, even at low heat, the company claims.
While the company claims it can be used for vertical steaming but in my opinion, it is better to use it as a normal steam iron.
The model has a 360-degree ironing cord and the iron has good balance while using it the weight of the iron is light around 3.7 pounds.
It has other industry standard features like 3-way auto shutoff, anti-drip, and anti-calc.
Rowenta Irons Comparision Chart
| Name | DW2459 | DW3261 | DW5080 | DW6080 | DW8080 | DW9280 |
| --- | --- | --- | --- | --- | --- | --- |
| Steam Holes | 350 Holes | 380 Holes | 400 Holes | 400 Holes | 400 Holes | 400 Holes |
| Wattage | 1725 Watts | 1725 Watts | 1700 Watts | 1700 Watts | 1700 Watts | 1800 Watts |
| Water Tank Size | 8.5 oz. | 8.5 oz. | 10.15 oz. | 10 oz. | 12.7 oz. | 11.8 oz. |
| Stainless Steel Soleplate | ✓ | ✓ | ✓ | ✓ | ✓ | ✓ |
| Uses Tap Water | ✓ | ✓ | ✓ | ✓ | ✓ | ✓ |
| Auto-Off | ✓ | ✓ | ✓ | ✓ | ✓ | ✓ |
| Anti-Calcium | ✓ | ✓ | ✓ | ✓ | ✓ | ✓ |
| Other Features | Retractable Cord | No Temperature Setting Needed | X | Eco-Mode uses 25% less energy | X | LED Temperature Display |
What to look for in a Rowenta Steam Iron?
Fabrics that are compatible with Rowenta steam iron
Nearly all Rowenta steam irons have settings for cotton, linen, silk, wool, and synthetic fibres like polyester and viscose. To be on the safe side, you should always read the clothing care label before ironing. Also, you can check out the best irons for clothes list here.
Benefits of the spray function on a Rowenta steam iron
The spray function comes in handy when you're dealing with a deeply wrinkled item. By wetting the fabric lightly, the wrinkles relax, and the heat from the iron penetrates even more effectively. However, you should check the care label for the clothing before you use the spray function. Some fabrics should not be exposed to water.
Safety features of Rowenta steam irons
Most Rowenta irons feature an automatic shut-off feature that turns the appliance off when it's left unattended. In most cases, the iron shuts off if left standing for more than eight minutes; if it falls over or is left resting flat on its soleplate, it typically shuts off after 30 seconds.
Auto shut-off is an important safety feature. Consult the specs of your potential purchase before buying to make sure your chosen product offers this feature.
Pro tips from real users
Rowenta steam irons are designed to work with tap water. However, if your water is very hard, mix one part tap water with one part distilled water.
Avoid the risk of electric shock. Never fill the water tank of your steam iron while it's plugged in.
To prevent "shiny" marks from appearing on dark clothing, turn the apparel inside out before ironing it.
Always use the appropriate temperature for the type of fabric you're ironing. This helps prevent the soleplate from sticking to the fabric.
If you're using starch, spray it on the inside of the garment so it never comes into contact with the soleplate.
Avoid placing your steam iron facedown on a rough or uneven surface.
Wipe a soft, damp cloth over the soleplate to clean it. Do not use any type of cleaner or solvent.
If you haven't used your steam iron for a while, allow it to steam for several minutes over your sink. This will rid the iron of any residue that might damage your clothing.
Conclusion
I hope you found the best Rowenta Iron 2021 guide helpful. Our choice for the best Rowenta Steam iron is the Rowenta DW9280 model.
The model has 1800-watt power with an 11.8 Oz water tank. The model features a LED temperature display with pre-temp settings for different fabric types.
Another budget-friendly Rowenta iron that is worth every penny is Rowenta DW3261. The model has an auto temperature sensor that detects the suitable temp for the ironing fabric.
So that you can iron a lot of different fabrics without worrying about burning them.
If you've any questions about any models, comment down below, and we will try our best to help you make a perfect decision.