Are you looking for the best clothes steamer for college dorm?
For students, you've to select a easy to use, reliable and affordable steamer for your clothes.
In this article, we've reviewed top 10 steamers for college dorms with pros and cons.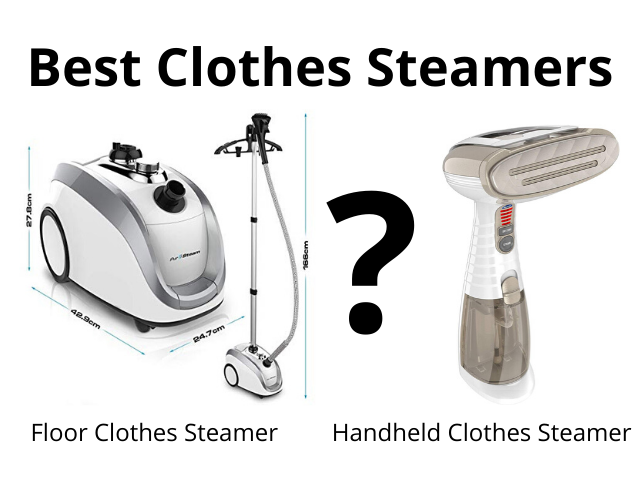 Best Clothes Steamer for College Dorm
Clothes steamer for college dorms: PurSteam PS-950X
PurSteam is a well-known company in the laundry market. The PS-950X model is the latest clothes steamer to try for everyday use.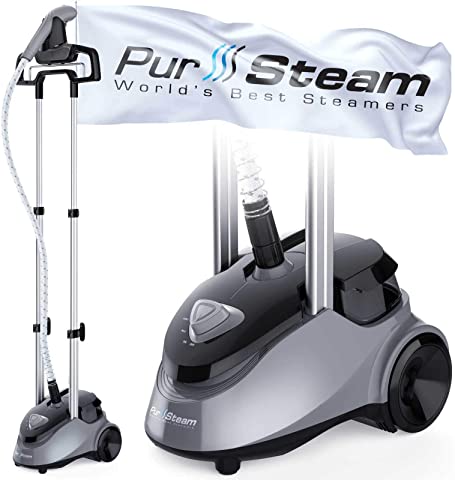 Power: The PurSteam PS-950X comes with 1500 watts of power as described in the user manual. The water tank can be heated within 45 seconds.
Water tank: It comes with a 2.5 Liter (85 fl.oz.) water tank which can last up to 60+min of continuous steam with 4 level steam adjustment.
The manual says you can use tap water but if you live in a hard water area, it's better to use 50% tap water and 50% distilled water.
Material: The steamer's outer side is made of plastic. The water tank is plastic on the outside. Overall build quality is at par.
Safety Cap: There is a safety cap provided on the water tank to prevent the opening of the cap when there is hot steam or water inside that can cause skin burns.
Accessories: This powerful steamer comes with a deluxe multifunctional hanger, fabric brush, pant press, and mini ironing board completing all your ironing accessories and needs.
Features: It comes with an adjustable height of 80 cm to 160 cm, has auto cleaning, anti-limescale. The steamer doesn't have an auto-shutoff feature.
Cons:
Power should be higher around 1700 to 1800 watts.
You can steam your clothes for 35 to 45 mins max, though company claims 60 mins of steaming.
Conair Turbo Handheld Clothes Steamer
Having a handheld clothes steamer is necessary these days. The Conair Turbo Extreme GS59 model is our first choice.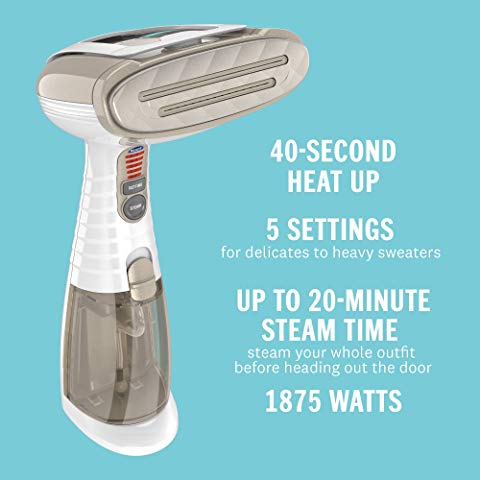 Power: Conair Turbo Extreme model comes with 1875 watts of power. It can heat up the water within 40 seconds of turning it ON.
Water tank: The transparent water tank has a 215 ml (7.3 ounces) capacity. The tank is detachable in nature.
Material: The Conair GS59 model is made of plastic. The model is extremely light to hold and has an ergonomic handle for longer use. The cord length is 12 ft.
Accessories: It comes with a silicone band to pull the fabric taut for better results, a delicate fabric spacer to protect trims and fine fabrics, and a bristle brush to ensure steam penetrates fibers for a perfect press.
Claims: Conair claims it can kill 99.9% of germs, dust mites, and bed bugs.
Cons:
Water tank is small. 300 ml should be provided.
If you're looking for a Rowenta handheld steamer, then this DR8120 X-Cel model is the one we recommend.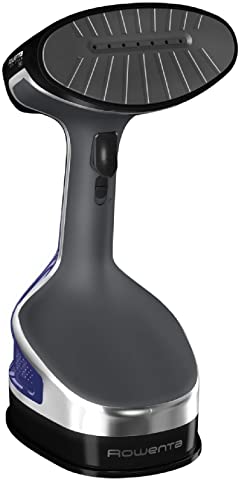 Power: The Rowenta DR8120 model comes with 1875 watts of power. It also has a 1600 watts variation and costs $4 less than the 1875 watts model. The difference in real-life usage is negligible. You can check out the 1600 watts variation from here.
Water tank: It has a water tank capacity of 189 ml (6.4 Oz) which is heated up pretty quickly within 25 seconds (1875 watts model).
It can spread 26 grams per minute of burst in no time. But, it can be used for 10 minutes of steaming.
Material: The model is made of high-quality ABS plastic and feels premium to hold. The soleplate is made of aluminum.
Cord length: The DR8120 model comes with a 9.84 ft cord for better accessibility. With this range, you can do steaming without using an extra plug.
Features: Auto Shutoff, free-standing bottom.
Accessories: The DR 8120 XCel comes with useful accessories like a fabric brush, a crease attachment & a steam bonnet.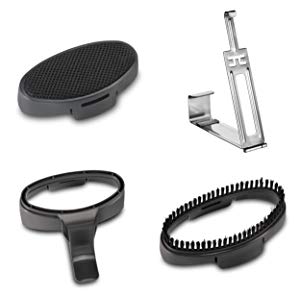 Fabric brush to brush away wrinkles, crease attachment for perfect creases on jackets or pants, and steam bonnet to prevent any type of dripping water from staining your garments.
Cons:
Premium price tag.
Low steaming time.
If you're looking for a standing steamer, this model can fulfill your needs. The height of this standalone iron is expandable from 15 inches to 19 inches, according to your height.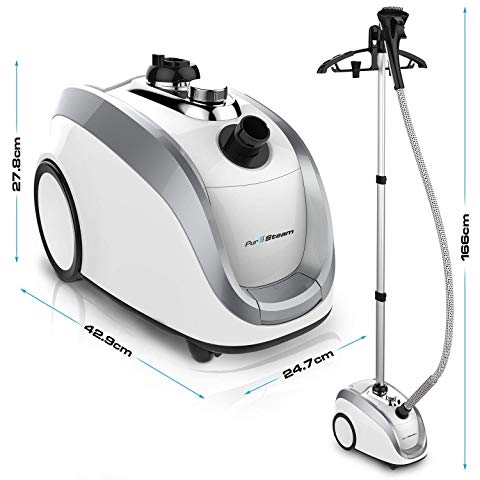 The water tank capacity of this iron is 61 Oz or 1.8 liters which heated up within 60 seconds and can be used for 60 minutes steaming. It has a safety cap on the water tank which prevents opening the water tank when there is hot steam buildup inside that can cause skin burns.
It comes with 4 level adjustment controls which includes high-pressured steam for an easy, effective, and efficient steaming experience along with its woven hose, deluxe clothes hangar and fabric brush, steaming has never been simpler.
You can read our reviews on the best commercial garment steamer, from here.
Rowenta IS8440 Professional Clothes Steamer
If you're in the laundry industry or have done some research on irons then Rowenta is a very familiar and reliable option that you can opt for. Rowenta is a German manufacturer founded in 1988.
Rowenta IS8440 is a professional iron that many laundry experts use and recommend. It's a clothes steamer but can be used for hanging curtains, drapes.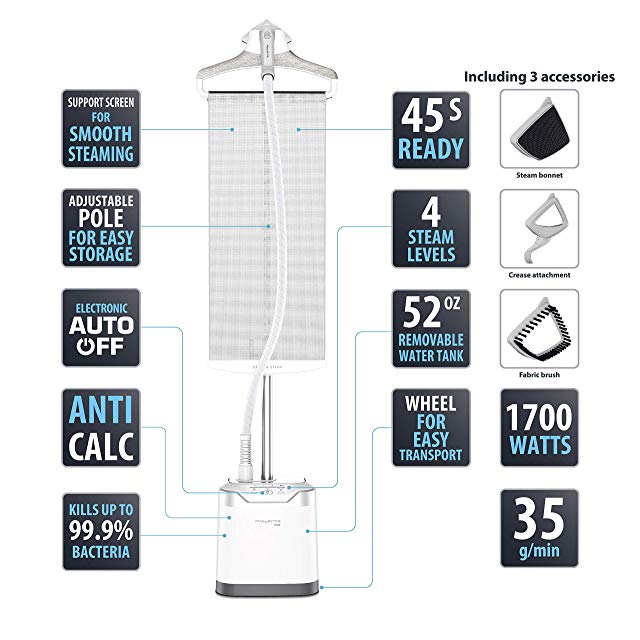 It delivers 1700 watts power which is used to heat the 52 Oz water tank within 45 seconds. It can spread 35 grams/minute of continuous steam output, easily de-wrinkle your clothes and curtains.
This Is8440 model comes with accessories like fabric brush, steam bonnet & crease attachment. I like the iron tip and rotating hanger.
Related read: Best Rowenta Steamers.
J-2000 Jiffy Clothes Steamer
Jiffy is a well-known brand and this J-2000 model is the best value-for-money steamer. In fact, it listed on no 1 position for the best steamer for curtains list.
This J-2000 model comes with 1300 watt power, inturn the water is heated up with two minutes. The water tank is bigger than all of the steamers listed here. It comes with a 2.8-liter water tank reservoir that has no-drip check valve so that condensed water cannot come out of the holes.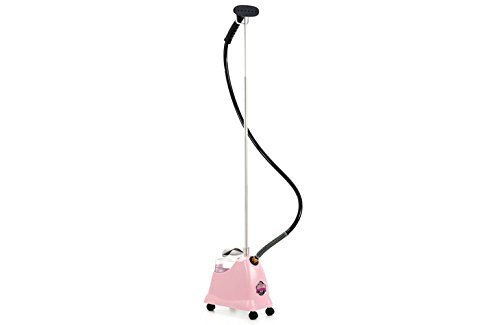 It has a 5.5-foot hose with a 6-inch steam head carton and easy-roll casters for transportability.
It comes with four different options- metallic head, plastic head, pink metallic head & pink color plastic head for more smooth steaming.
The main difference of metallic head & plastic head is that the metal head heats up and can be used as a traditional iron. But for steaming metallic head is larger in diameter, bulky and too heavy to hold for longer times. I exchanged the metal head for the plastic head (personal opinion).
We've published a guide on the best Jiffy steamers after lots of research and testing. You can read the post there.
Rowenta DR8120 Xcel Handheld Clothes Steamer
PurSteam Full Size Garment Fabric Steamer
Another PurSteam that's made it to the list is a full-size garment fabric steamer. It comes with a 2.5-liter water tank compared to the PurSteam 2020 model (1.8 liters). A large water tank makes steaming easy without worrying about refilling.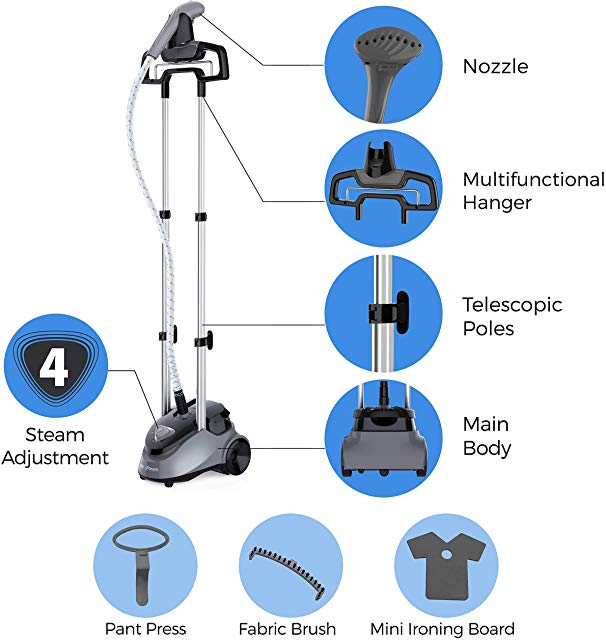 It has a burn prevention safety cap which inturn prevents opening the water tank when there is hot steam-cloud or water inside that can cause skin burns.
It comes with a multifunctional hanger, for hanging your clothes; height adjustment telescopic poles; fabric brush and pant press. All of them make your steaming experience easier.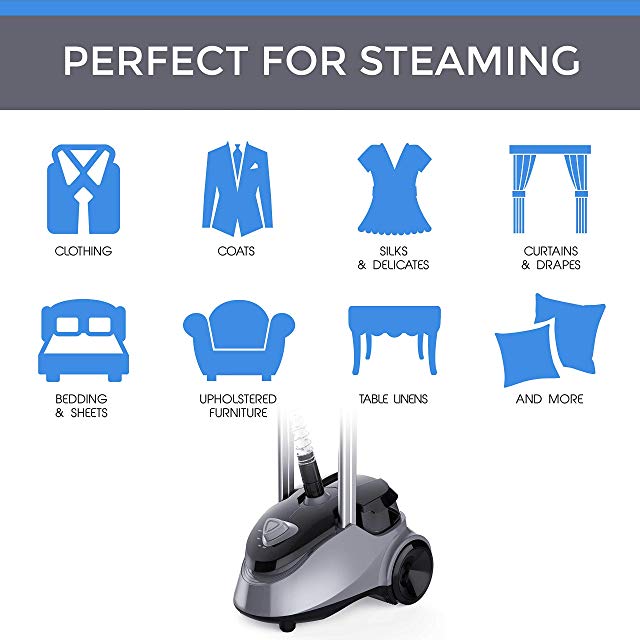 Last but not least, it can be used for steaming clothes, coats, delicate fabrics, silk, curtains & drapes, bedding sheets, furniture covers, table linens, pillow covers.
Black+Decker Advanced Handheld Clothes Steamer
Black & Decker is another reputed brand in the laundry industry. Best Black and Decker irons are cheaper, affordable, and reliable.
This advance handheld clothes steamer (model no. HGS200) comes with a water tank capacity of 220ml, which can burst steam for 15 mins at max.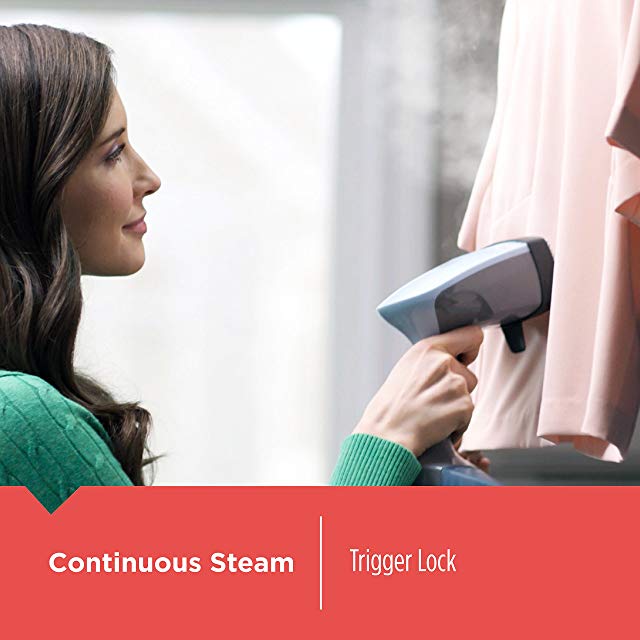 It is powered by 1400 watt which makes steaming the water easy. It comes with a 15ft cord that gives you plenty of reach for steaming drapes and bedding. While not in use for 15 minutes, the steamer will automatically power down.
The locking trigger lets you apply steam continuously or in small bursts, plus three attachments are included for removing lint, and steaming upholstery and delicate fabrics.
What is the best clothes steamer brand?
Here is the list of the clothes steamer brands to choose from:
PurSteam
Conair
Rowenta
Jiffy
Clothes Steamer vs. Steam Iron
A garment steamer provide continuous steam to de-wrinkle your clothes whereas steam iron uses heat from its soleplate to de-wrinkle clothes.
In this process steam iron damages, delicate fabrics but garment steamers will do the job without damaging the product.
A garment steamer is quick, efficient and portable when compared to an iron appliance. Steamers take only seconds to heat up and produce a continuous steam flow that can last up to 20 minutes without the need to refill or reheat.
Types of clothes steamers
Garment steamers generally come in two variations depending upon their purpose of use.
1. Handheld/Travel Steamer:
Handheld clothes steamer is portable, and it is very much convenient to carry as it fits anywhere making it travel-friendly. These types of steamers can be used for 10-15 mins depending upon the water tank capacity. The average water reservoir of these types of steamers is 200 ml.
These steamers are less expensive than upright models. These are designed with a water tank and steaming nozzle close together in one unit. These steamers also come with different accessories to make your job easier.
Pros:
This is a portable model
It is less expensive than an upright model
Cons:
Not very much suitable for thicker garments
2. Upright Clothes Steamer / Floor Steamer:
Floor steamer is one of the best steamers for clothes & other fabrics like curtains, drapes, furniture cover, pillows, etc.
They have a bigger water tank capacity of 60-80 Oz, lengthy cord and also have a hanger to tuck your shirts, pants, etc.
This model steamer is perfect to use in one location and steam various garments of different fabrics. This steamer is a bit bulkier compared to the handheld model and expensive too.
The upright model is designed with wheels and comes with a hose to which the steaming head is attached this helps you to pull along as you steam. This model comes with the cloth hanger at the top.
Pros:
Movable and easy to use.
Large water tank capacity.
Best for all household items.
This model has cloth hanger on the top, it is convenient for steaming clothes.
Cons:
It's heavier so it is not portable.
Expensive compared to a handheld model.
How to choose a Clothes Steamer?
There are only a few factors left to look up before choosing the right kind:
1. Handheld Vs Floor Model:
If you travel a lot and need a steamer that is portable, less expensive then you should go for a Handheld steamer. Whereas if you're looking for a steamer for family needs then you should opt for a floor model because these models are designed to heavy usages. The next section will talk about the water tank size & how it affects your steaming.
2. Analyze the size of the water tank:
Floor garment steamer with an average capacity of 1 to 2.5 liters of water and can produce a steam time of 45 minutes to 1 hour. On the other side, handheld models hold between 200 and 250ml of water and it can give 10 minutes of steam time. So if you've got a lot of clothes to steam then you better opt for a floor model.
3. Heat up time:
The water should reach high temperatures faster and steam comes out of the device is more efficient. It also depends on the power of the steamer and water tank capacity. With more power, a large water tank can be heated up within 1-2 mins for floor models whereas handheld steamer heated up within 40-60 seconds depending on the power of the steamer.
4. Ease of use:
Comfortability is an important factor while choosing a clothing steamer. Handheld steamers should be lightweight and easy to hold. Floor models handle should be ergonomic and lighter in weight.
5. Attachments & accessories:
Attachments make your steaming easier. The common attachment of the Garment Steamer includes fabric brush, lint remover, crease clip, few steamers include build-in hanger others only have hangers included.
Accessories help Steaming more convenient for the user. Some models only include steam head, but others have various accessories that allow you to make wrinkles on wool pants or perfectly smooth down collars.
Another accessory that makes ironing easier is clothes hanger, you can hang the clothes and grip the steamer with both hands. If the accessories are not included, then it will be difficult to use the steamer.
Wheels on a full-size steamer: Caster Wheels make it easy to move the unit from room to room, 9.07 is the weight of the full-size steamer.
Hangers and racks or clips: The build-in hangers or racks, as well as a hook for holding a hanger, are all present in the best full-sized steamers.
8. Steam Function
One of the features you should consider when you buy the steamer is the continuous steam capacity. With the one press, until you turn off there should be a continuous flow.
The top-rated models you can adjust the steam flow any way you like. Depending on your need you can use a steamer for both delicate and heavy fabrics. Check the information on the steamer model you are planning to buy for different steam settings you can operate.
Considering the steaming temperature is an important aspect to consider while choosing a steamer. If the temperature is high the wrinkles will fade away faster but there is a possibility of damage in delicate fabric.
248 degrees Fahrenheit, this temperature can handle delicate to heavy materials, this temperature goes through deep and relaxes fibers. There are different models of different maximum temperatures available in the market.
9. Performance:
The performance of the steamer should offer you the flexibility of usage according to your preferences. The perfect steamer should be able to contain the correct amount of water.
The steamer should be able to convert water into steam in a couple of minutes and should last up to 15 minutes, the water should last long 2.5 hours.
10. Suitability for fabrics:
Before you buy the steamer, you need to make sure that the steamer can remove wrinkles from any type of fabric. The fabric you plan to steam also decides the type of steamer you should buy. It is an advantage to buy a steamer that is versatile.
Benefits of a clothes Steamer
Steaming is faster than ironing, makes your job easier.
Steaming is best for delicate fabric without damaging the fabric quality.
Steaming is also used to kill bed bugs, germs, and bacteria from your clothes and other fabrics.
Steaming does not need any flat surface like an iron board anywhere we can hang and do steaming easily.
How to use a Clothes Steamer
Step 1:
The water tank should be filled with cold water and allow it to heat, which takes mostly three minutes. If you see steam coming out from the nozzle then you can say that the steamer is ready.
Step 2:
Most of the steamer models come with the pole that you can easily use to hang clothes and pass the steamer over the garment without much trouble. if there is no pole for the steamer you need to hang clothes to hanger and place on convenient hook.
Step 3:
To use the steamer, just pass the steaming head over your cloth and allow the steam to remove the wrinkles gently from your clothes. The handheld pad is used to remove wrinkles from extremely wrinkled cloth. Slip the pad over one hand and use the other hand to makeover the steamer.
Step 4:
Usually, there will be water spots after the fresh round of steaming. Allow your garment to dry for around five to ten minutes before you place it in your closet.
How to clean a clothes steamer
Here's how to clean a clothes steamer:
Step 1- Use vinegar solution: Fill the water tank with vinegar and distilled water solution and heat it to it's maximum temperature. Now use the steam burst button until all vinegar is gone. This solution help you to remove limescale buildup and open clogged steam holes.
Step 2- Refill distilled water and use steam burst function until it's empty. Let the steamer completely dry and then store it.
Protip: To prevent limescale and minerals build up in the tank use distilled water. If you use tap water, you need to clean the steamer often to keep it performing well.