Are you looking for stainless steel steam iron to buy?
Steam irons with stainless steel soleplate is getting popular due to their easy maintenance & proper heat distribution reason.
In this article, we've tried to list down all the best stainless steel steam iron of 2021 and their pros and cons.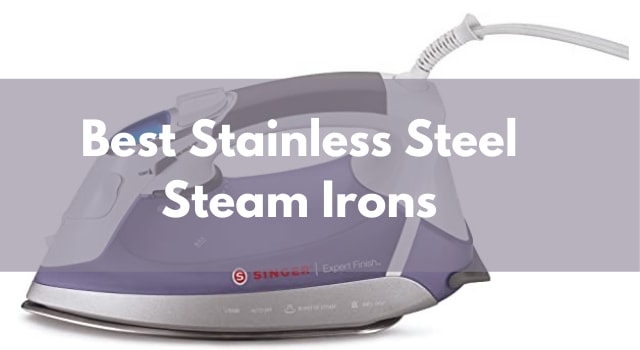 Best Stainless Steel Steam Irons 2021
Rowenta is a well known premium iron brand. This Rowenta DW5280 steam iron comes with Stainless Steel soleplate.
The DW5280 professional advanced iron comes with the power rating of 1725 watt and has the water tank capacity of 11 Oz. The model has 400 micro steam holes for better steam distribution performance with excellent ironing result.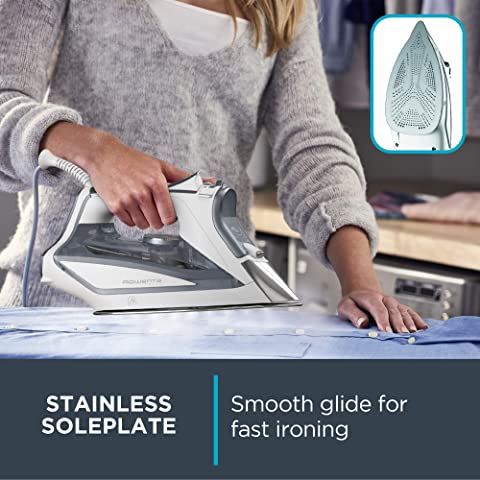 The model has an auto shut off feature which automatically turns off the iron when not in use. The iron automatically shuts off if kept on the soleplate for 30 seconds, if kept vertically it shuts off in 8 mins and if tipped off it shuts down in 30 secs.
The German-made DW5280 Focus Excel iron produces 40 g/min of continuous steam output, plus offers a 135 g burst-of-steam function for removing extra-stubborn wrinkles.
You've different option to choose from DW5080 (older model), and a 1750 watt version of this same model. But according to our test, this DW5280 (1725 watt) model is the best value for money Rowenta steam iron that you can choose from.
Amazon offers savings time to time. You can see the current price on Amazon here.
When looking for a budget friendly steam iron that has stainless steel soleplate, this Sunbeam steammaster model is one of the cheapest model that I could find online.
Sunbeam Steammaster has power rating of 1400 watt and has features like auto shutoff, vertical steaming & self cleaning.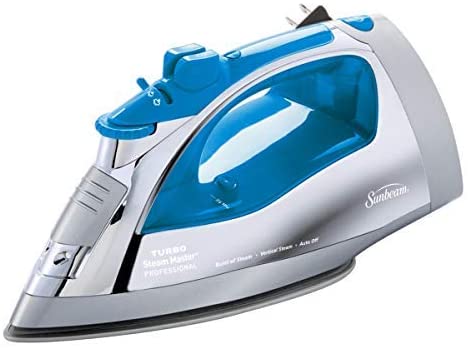 Sunbeam steammaster comes with an 8-foot retractable cord which makes storing the cord easier. The body is made of plastic and quality is decent.
The stainless steel soleplate has macro steam holes which does a decent job to remove wrinkle, however you may have to use it for 2-3 times to removes wrinkles completely.
Considering the price, the quality is good but this iron is not for everyday users. If you occasionally do ironing and looking for an affordable iron, this could be the best buy. See the price on Amazon here.
An authority brand from quilting & sewing industry has started making great ironing products. If you're a quilter or a sewer, you may know the SINGER brand.
This SINGER Expert Finish iron comes with 1700 watt power and stainless steel soleplate.
The model has 360 degree swivel cord and has modern feature like LCD screen with 9 temperature settings.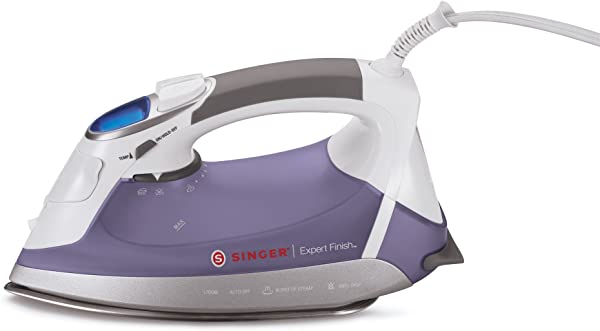 You can use the iron as vertical steamer. The model has auto shutoff feature which switches off the iron in 8 minutes if left vertically, 30 seconds if left horizontal or tipped over.
While these are must have feature, this model provides 2 years warranty in USA & CANADA with the voltage rating of 110V-120V.
Overall this SINGER steam iron is best for everyday use as well as for occasional use. Check the current price here from Amazon.
How to Clean a Stainless Steel Soleplate Iron?
You can use vinegar & baking soda for different types of cleaning.
Vinegar can be used for tougher stains and dirt. You just need to rub the plate with undiluted white or cider vinegar until the dirt comes off. Dabbing a small amount onto the end of a small towel is often the easiest way to remove cooked-on marks.
Baking soda paste can be used when there is gunk on your stainless steel soleplate. It also helps to remove simple smudges, dirt including melted plastic or fabric.
Caution: You should not use metal sponges or brushes to remove any gunk or melted plastic from the soleplate. As it may damage the soleplate causing it to rust in near future.
FAQs
Is stainless steel iron better?
Stainless steel irons are better in terms of heat distribution, maintenance & smooth gliding over any type of fabric.
What is best steam Iron with stainless steel soleplate?
Can I use apple cider vinegar to clean my iron?
Yes you can use apple cider vinegar to clean your iron. However, apple cider vinegar costlier than normal vinegar that will do the same work, just like the normal vinegar.