Are you looking for the best steam iron for elderly people?
There are many ironing guides that don't focuses on steam irons for elderly people.
For elders a lightweight, reliable, easy to hold steam iron is recommended. In this guide, we've sorted the best steam iron according to their weight, brand value and price.
Best Steam Iron for Elderly People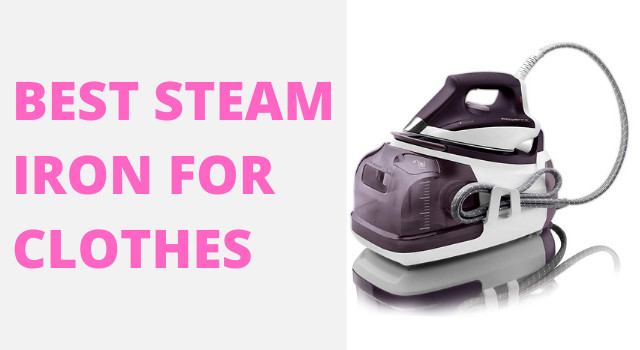 What to look for in a Steam Iron?
When looking for a steam iron that'll remove wrinkles in no time and works great in the long term remember these below points:
Power: The iron should have enough power so that it'll be ready to iron your clothes. The ideal range would be 1500-1800 watts.
Water Tank capacity: Having a large water tank capacity will help you to iron more clothes without refilling much. Anything above 10 Oz is recommended.
Steam Output: Steam output matters a lot when removing creases from clothes. The ideal range is above 10g/m to 200g/m.
Other features: Auto-shutoff, anti-drip, auto cleaning are the most popular features that most of the irons have these days and they are useful too.
Top picks
When it comes to ironing, this German-made Rowenta iron is recommended by laundry experts. Their price tag may be higher than others but the quality of their iron sturdy in nature.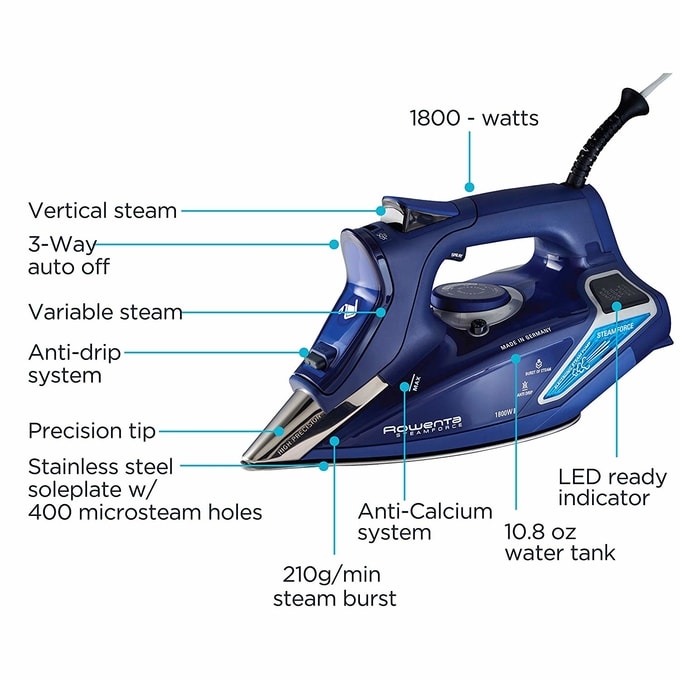 Power: This Steamforce DW9280 model has a total output power of 1800 watts and gets heated up pretty quickly. Making it easier to wrinkle out the clothes.
Water tank capacity: It has a water tank capacity of 11.8 Oz (350 ml) so no more refilling up to 5 to 10 clothes depending upon the usage.
Steam Power: It has 400 steam holes with steam pump technology. When using the Steam burst button the output is 210gm/min. In normal cases, it's around 30gm/min. Thus making this iron best for thick fabric clothes like jackets & jeans.
Soleplate Material: The DW9280 model has stainless steel soleplate which ensures even steam distribution and smooth gliding across different types of fabric.
Other Features: To prevent any sort of accident, this iron comes with a 3-way automatic shut-off system after being left untouched for 8 minutes vertically, 30 seconds face down, or on its side making it ultra-safe to use.
LED temperature settings let you select 5 different temps. setting depending on the fabric type. However, a rotary dial is best for irons because they are convenient and easy to change.
Anti-drip features will remove the water dripping problem at low-temperature settings either by heating the water to steam point or by disabling the steam burst feature.
Anti-scale features prevents any limescale buildup in your iron and with the help of auto clean it'll remove any impurities from the iron's water tank.
It has a 2-meter long power cord so that you easily use this iron without removing other appliances.
Another Rowenta Iron that worth checking out is this DG8520 model and I bet this is one of the best steam generator iron that you can rely on.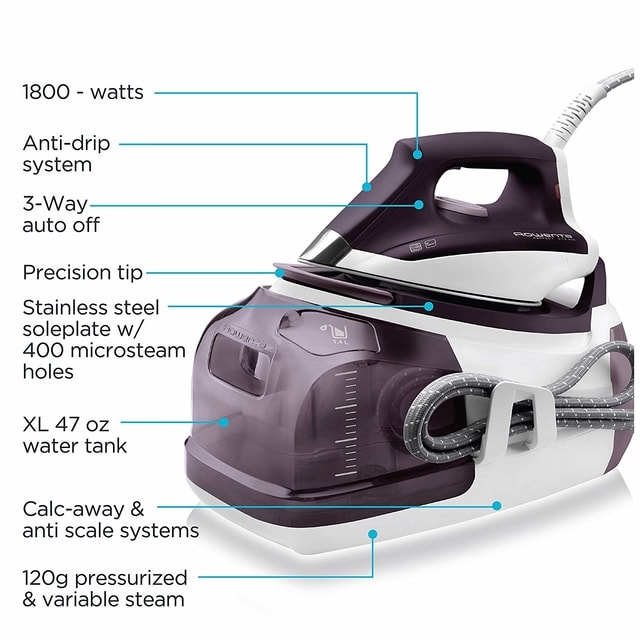 This Rowenta DG8520 is a steam generator iron and it comes with a 47 Oz separate water tank which can be used for 1.5 hours long (making it best for quilters and good housekeepers).
The water tank is connected with the ironing soleplate system with a 1.9-meter long cable. This iron uses micro steam technology with 400 micro-holes. It heats up in just three minutes and saves 20% more energy than a normal steam iron.
It is powered by 1800 Watt that's why steam pressure of 5 bar (120gm/min) will be high enough that can penetrate thick fabrics easily.
It can be used as a vertical steamer which is ideal for steaming hanging garment, curtains or drapes. The soleplate is made of stainless steel.
Features:
Anti dripping, Anti lime scaling
Soleplate: Stainless Steel
Power: 1800 Watts
Water Tank: Yes, 1.4 Liters (47 Oz)
Steam Output: 120gm/minute
CHI (13101) With Titanium Infused Ceramic Soleplate
CHI is a well known China brand which is trending all over the internet right now. They have products like hair straightening irons, clothing irons, etc.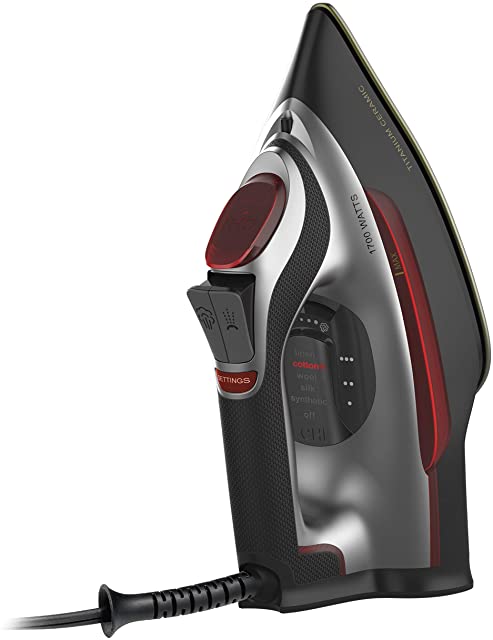 CHI 13101 model comes with titanium-infused ceramic soleplate which is ultra-strong and scratch-resistant. Matte chrome accents and a sleek design give this iron a polished look.
This model comes with 1700 Watts power and uses 300 micro steam holes for superior performance. It also comes with 3 ways auto shut off feature which we have discussed earlier in this list.
This model uses CHI Flat Iron Technology which powers CHI's hair styling tools. So that means wrinkle-free clothes with an easy ironing process.
Temperature controlling dial is a confusing setting for many of us. You will eliminate the guesswork when it comes to selecting the right temperature. It allows you to choose the perfect temperature according to your fabric type.
It also delivers precise control and comfort. If you want a modern iron with premium materials, do not hesitate to buy this product today.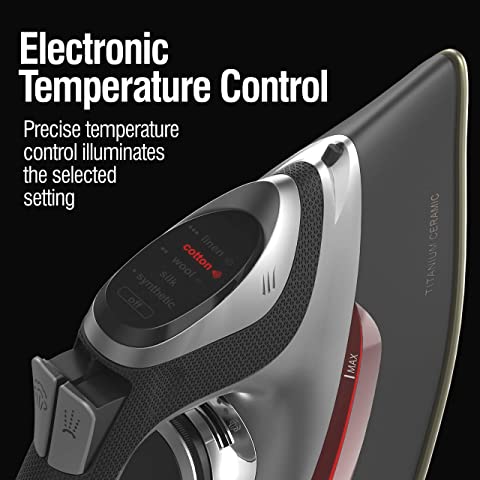 The temperature control dial lets you choose your fabric type and sets the temperature accordingly, eliminating the guesswork.
It has features like anti dripping, anti-scaling and self-cleaning mode which increases the life of the iron. The ironing cord is 10 ft long so when you are ironing there are no disturbances with the iron's cable.
Features:
Anti dripping, Anti lime scaling
Soleplate: Ceramic soleplate
Power: 1700 Watts
Water Tank: Yes, Small
Steam Output: Unknown
Also check out some of the best retractable cord irons which help ironing job easier.
If you are looking for a budget-friendly, durable and everyday usable Rowenta iron this iron may be your best choice.
This DW6080 model comes with 1700 Watts power and can burst steam at the rate of 100gm/min. The water tank capacity is 10Oz.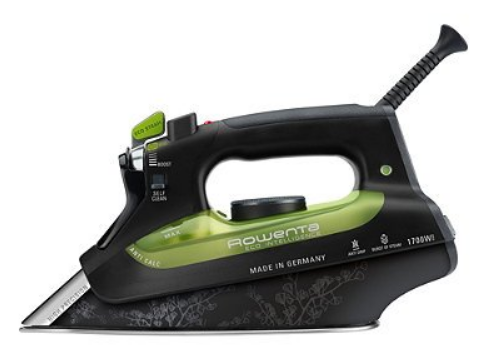 It comes with new patented Microsteam 3De stainless-steel soleplate helps concentrate steam below the soleplate to reduce steam loss and increase steam efficiency.
It also has features like anti-dripping which prevent the iron to leak water when ironing in low temperature. It also has an anti-scaling system which indicates calcium buildup on the water tank.
It also has an auto-shutoff feature that can switch the iron off in 8 minutes if left horizontally, 30 seconds if left horizontally, 30 seconds if it tipped over. So if you forget to disconnect the supply, no worries the auto-shutoff feature will do the work. (But you should not forget to switch off the power supply.)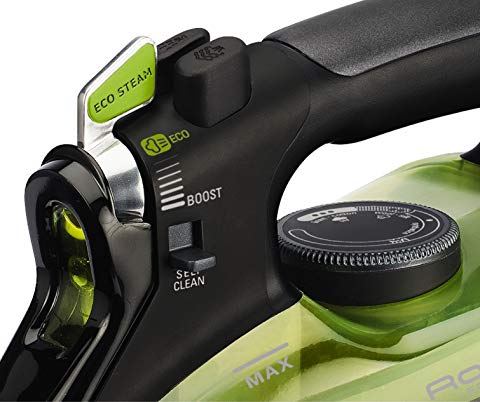 The Eco Intelligence is 25% more energy-efficient than standard irons while still delivering the same high performance that demanding users expect from Rowenta irons. The unique 3De soleplate concentrates the steam output and reduces loss of steam, so less steam is required—and less energy is consumed.
Features:
Anti dripping, Anti lime scaling
ECO Mode
Soleplate: Stainless Steel
Power: 1700 Watts
Water Tank: Yes, 10Oz
Steam Output: 100gm/minute
BLACK and DECKER is a well-known brand in the Ironing industry. They built durable, cheaper but features reach irons for everyone. The soleplate of the iron is made of stainless steel.
This D3030 model comes under a $40-50 price range yet with many handy features like anti dripping, auto shut off, self-cleaning, etc.
D3030 has an LCD screen mounted on top of the iron's handle which comes very handy when setting temperatures for fabrics.
It has 7 temperature settings for fabrics like Acetate, Nylon-Silk, Polyester-Rayon, Cotton Blend, Wool, Cotton, and Linen. First, three uses the iron as a dry iron and the next fabrics use the iron as a steam iron.
If you want to learn more about differences between dry iron and steam iron check out this page.
Features:
Anti dripping, anti-lime scaling, and self-cleaning
Soleplate: Stainless steel soleplate
Power: 1500 Watts
Water Tank: Yes within the iron
Steam Output: Unknown
Conair is a well-known brand. The CNRGI300 Extreme Steam Pro model comes with 1875 watts power with a nano titanium soleplate. The iron weighs around 2.1 Pounds. The Conair extreme steam pro costs under $50.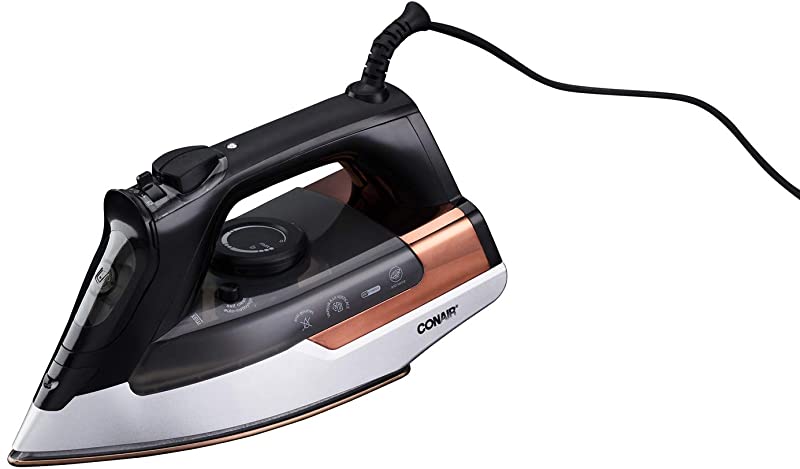 The soleplate of CNRGI300 model provides smooth glide over different fabrics. It distributed the heat evenly and is corrosion resistant.
The 1875 watts power is enough for ironing cloths. It has 49% more steam output and 25% more power than Conair WCI306R model.
The model also has useful features like anti-drip, auto/self clean and auto-shutoff. Making it a popular iron for beginners. It comes with a 1-year manufacturer warranty.
Rowenta DW5260 Focus Xcel Iron
If you are looking for an iron that has a larger water tank but cheaper then this is maybe your best choice.
Larger water tanks help you to iron your clothes for a long time around 60 to 90 minutes. If you do housekeeping and iron a lot of clothes, you may want to check out this iron.
This DW5260 model has a water capacity of 11Oz which is enough for 60-75mins ironing with a steam bursting capacity of 120gm/mins. This iron has features like anti dripping, anti-scaling, self-cleaning, etc.
The model has a 360-degree ironing cord and the iron has good balance while using it and the weight of the iron is light around 3.7 pounds.
Features:
Anti dripping, Anti lime scaling, auto shut off
Soleplate: Stainless Steel
Power: 1800 Watts
Water Tank: Yes, 11Oz
Steam Output: 120gm/minute
Rowenta DW7180 Everlast Anticalcium Iron
This is the best iron for hard water and uses a patented limescale collector, capturing up to 1 teaspoon of scale. The collector is removable and extremely easy to empty.
This model comes with patented micro steam 400 soleplate, with 400 fully activated micro steam holes, which ensures even and optimal distribution of the steam into the fabric.
It can be used as a vertical steamer and steam burst that can be adaptable to all ironing needs.
Features:
Anti dripping, Anti lime scaling, auto shut off
Soleplate: Stainless Steel, 8ft cord
Power: 1750 Watts
Water Tank: Yes, 12Oz
Steam Output: 120gm/minute
Steam Iron Buying Guide
Here's what to keep in mind when buying a steam iron:
A steam iron should comes with enough power to heat up the iron very quickly. It should have large water tank and high steam pressure to remove creases out of your clothes. It should have auto shutoff, anti-drip, anti-calcium, self clean like useful features to aid in the process.
Here is the list of factors keep in mind while buying a steam iron:
Power Wattage: The higher the power wattage, the quicker the iron heats up and the easier it is to remove wrinkles & hard to go creases.
The Sole Plate: The soleplate of the iron should be made of a durable material and one that does not stick to clothes and smoothly glides over fabrics. It should have around 400 steam holes, which allow for even distribution of steam. You can choose from stainless steel, anodized aluminum, ceramic, and nonstick. Normally, stainless steel and ceramic work best and last longer.
The Purpose of The Iron: Different irons achieve different results and are built for different purposes. Some steam irons are built specifically for professional use and might not be suitable for home use because they may lack some certain features.
Steam OutPut: Some irons have a higher output of steam than others. If you regularly work with difficult fabrics, an iron with high steam generation is more appropriate.
Weight: Some clothing irons are considerably heavier than others. While a heavier iron has its advantages, it certainly has its drawbacks.
Self Cleaning: Some irons come with a self-clean function that allows them to flush out dirt and other deposits that might have accumulated inside. This makes them require less maintenance.
Anti Calcium System: This feature allows steam irons to operate without accumulating calcium and other mineral deposits which result from the use of hard water. This, therefore, allows the user to use tap water.
Auto-shutoff: This is one of the life-saving features every iron should have. It can prevent burnout. The auto-shutoff turns off the power of the iron once it has remained motionless for a certain amount of time.
Length and Type of Cord: Some models come with short cords while others are longer. Some cords are also easily entangled while others are retractable allowing ease of use and storage. Some more modern models have incorporated wireless cord technology.
The Water Tank: The bigger the water tank the better so you don't have to refill quite often. If the water reservoir is transparent or semi-transparent then you can refill it before empty.
Choose the best iron for military uniforms here. Military uniforms are harder to do the ironing. The linked article will guide you through which you select the best iron for uniforms, clean them with step by step guide.
Types of Irons
Irons vary by soleplate material, size, weight, and features. All tested irons removed wrinkles, but some produced more steam, making the job faster, and some has super glide-able soleplates. The best gliding soleplates are often stainless steel or ceramic. Here are the types of steam irons to consider:
#1- Conventional Steam Irons
These types of iron remove wrinkles with the help of heat of the soleplate and stubborn wrinkles can be cleared by steam. These irons can be used with tap water, thanks to anti-calcium valves or resin filters. They also have a mid-range power rating of 1400 watt – 1700 watt.
These types of iron are more powerful than normal iron which costs around $50. These iron provide more steam output. They have a large water tank, comes with more power of 1800 watt to 2200 watt. These irons allow you to apply a constant flow of high-pressure steam around 180 gm/minute.
Because of a large water tank, it takes up a lot more space than a conventional iron and can be placed on a chair or a rack at the end of the ironing board. These systems take longer to heat up and some don't automatically turn off if you leave them unattended—the same is true for some irons.
You can guess about these irons is they are wireless. Cordless iron is maneuverable and will not mess up with clothes. However, they lack in ironing power. Cordless irons have two-part: a charging base and the iron itself. It works like a wireless iPhone charger where iron is the iPhone.
However, they can't hold the heat for very long. You can iron clothes for 10-12 seconds after that you've to put it on the charger.
Steam Iron FAQs
Is steamer better than iron?
Steamers are much faster than irons. Handheld clothes steamers beat irons in terms of convenience because they are lightweight and require little space. A disadvantage with a steamer is that creases cannot be pressed into fabrics. Your dress shirt won't look crisp if you use a steamer.
Does steam cleaning clothes remove the odor?
Steaming provides the safest and gentlest finish for laundry items, releasing wrinkles for a natural finish. Not only does steaming avoid any risks posed from ironing (such as burning and unintended creasing), but the steam kills most germs and bacteria, which helps eliminate odors. A steamer is a great investment.
Can clothes steamer kill bed bugs?
According to BedBugs.edu, steamers work by delivering lethal temperatures to where bed bugs may be hiding. Curtain steamers are very effective when bed bugs are on the surface of items and can be effective up to 3/4″ into fabric surfaces. In cracks and crevices, steam will kill bed bugs up to 2-3/8" into a gap.
Can you steam jeans?
You're not taking advantage of a steamer if you're not using it steam your jeans. Instead of washing your jeans, give them quick steam. It will not only smooth out some of the creases but will help get rid of any unsavory scents.
Why is my clothes steamer spitting water?
The main reasons of spitting water are clogged steam holes or the iron isn't heated enough for water to produce steam. To fight this clogging problem, clean the iron with vinegar and lemon solution. If it's because of heating problem then contact a technician or if in warranty period contact the customer support.
Can you steam polyester?
Place the steamer on the lowest steam setting. Sweep the steamer across the polyester items to remove the wrinkles. To get rid of stubborn creases in the fabric, touch the head of the steamer lightly against the fabric for two seconds or less.
Can you steam satin?
Put your iron on a low setting with steam. It is very important to use steam when you are getting wrinkles out of a satin dress. A dry, hot iron could melt the satin and make a mess of your special gown.
Can you iron with a steamer?
"Steam is the key to ironing because it helps get rid of wrinkles quickly. Steam permeates the fibers of the fabric, and the heat from the iron makes them stay in place."