Are you looking for the best steamer for curtains and drapes?
In this article, we've reviewed top 5 best steamers for curtains and drapes with pros and cons.
Steaming curtains is a hard work. So we've included a guide on how to use a curtain steamer with lots of helpful tips from experts.
Best Steamer for Curtains and Drapes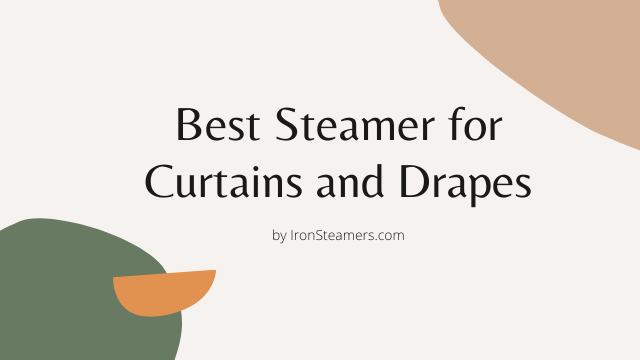 Also read other guide on Jiffy steamers and Rowenta steamers from here.
J-2000M Jiffy– Best Steamer for Curtains
When it comes to curtain steamers, Jiffy models are our first choice. They are made for heavy-duty works likes curtain cleaning. They are durable and easy to use.
Jiffy j-2000M model has 1300 Watt of power, has a solid heating element made of brass which results in super-fast heating within 2 mins of plugging.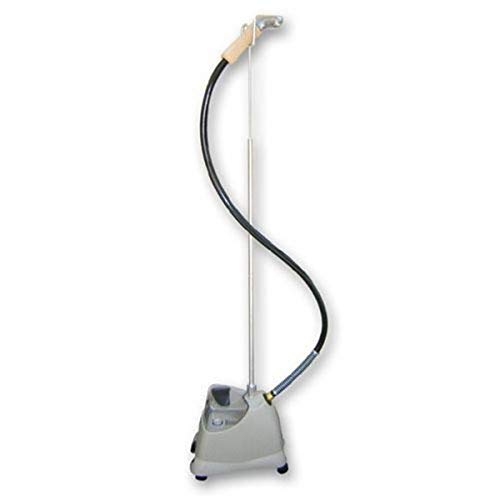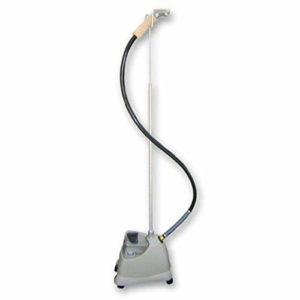 The J-2000 is equipped with a convenient ¾ gallon water that fits securely into the base of the steamer, a no-drip check valve system, and can last up to 1.5 hrs steam time per filling.
It has a 5 ½ foot flexible hose with 4 interchangeable steam (metal) heads consisting of a 9 inch bent aluminum pipe head attachment and wheels that swivel for mobility.
It can be used to steam jeans, shirts, etc. which makes it a very economical choice for you.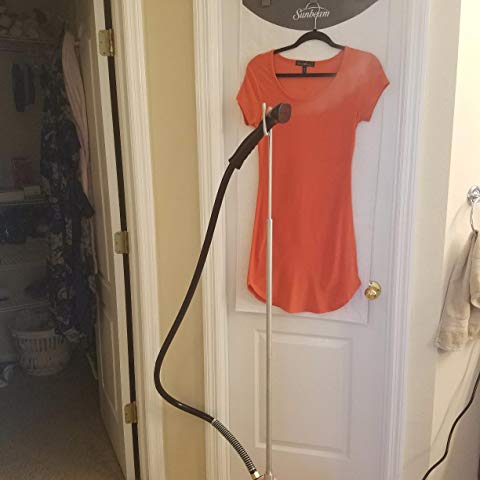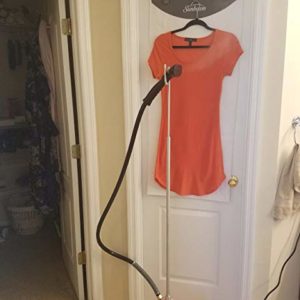 Features:
Power: 1300 watt.
Water tank: 0.75 gallon.
Heating time: 2 minutes.
Usable time: 60 mins to 90 mins depending on the usage.
Hose length: 5'5″.
Steam head length: 6 inches.
High-impact plastic outer housing for durability.
Cons:
120 volt for North America use only
If you're looking for an easy-to-hold and portable steamer for everyday use, then handheld clothes steamers are worth checking out.
Rowenta is a well-known ironing brand and made some huge improvements in the ironing niche.
Rowenta IS6300 model is the best multipurpose steamer that you can use for curtains & clothes. IS6300 has a built-in hanger for shirts and t-shirts which makes it easier to steam.


Features:
Power: 1550 watt.
Water tank: 0.63 gallons.
Heating time: 60 sec.
Usable time: 45 mins to 60 mins depending on the usage.
Hose length: not disclosed.
Steam head length: not disclosed.
Cons:
Water tank capacity should be more at this price range.
Alternative version: IS2461. It has a large water tank, 1500 watt power, and has no pressing area for clothes. However, the price of that model is lower than this IS6300 model. You can check the price of the IS2461 model here on Amazon.
The IS6300 model has the power of 1550 Watts with 30 g/min of steam output and 60 seconds heat-up time. Steam your clothes in no time!
It has an 81-ounce transparent water tank that is removable for easy refilling, expect 1 hour of continuous steam on a full tank, and uses any water even tap water.
The suitcase inspired 'tilt and roll' features enable easy transportation thanks to its back wheels and rolled using the handle.
Drapery Steamers are also popular these days. The best steamer for drapery is PurSteam 2020 model.
PurSteam 2020 model produces up to 30% more steam flow as compared in testing to other steamers some of which cost 2x the price and more.
It has user-friendly 4 level steam adjustment controls and prevents opening the water tank when there is hot steam or water inside that can cause skin burns.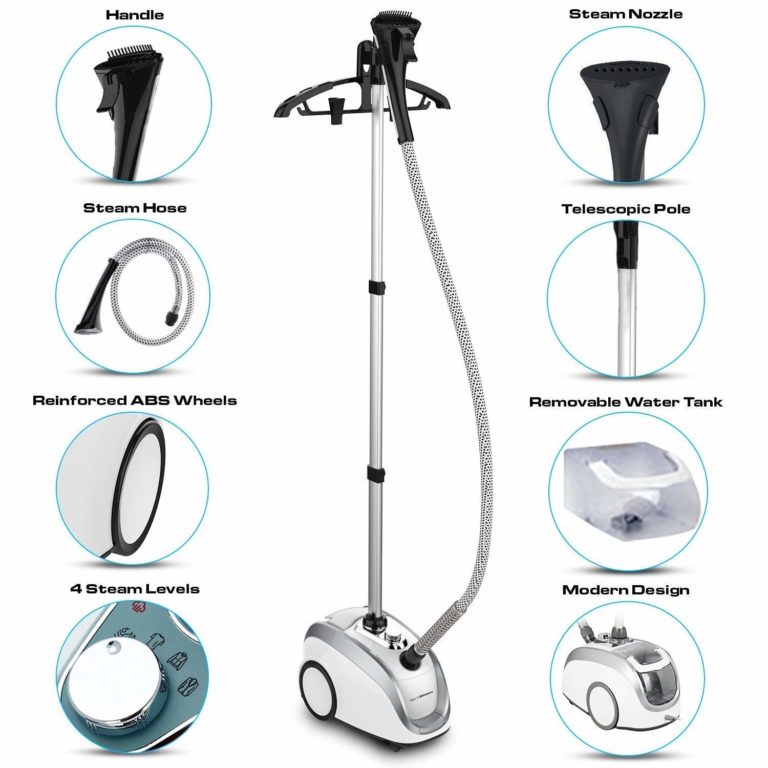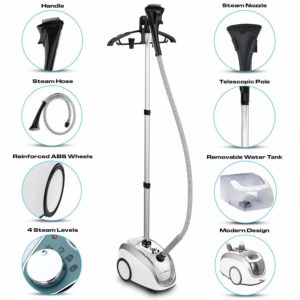 It can be worked with regular tap water without any anti-scale problem and has an anti dripping function in this model. So no more spitting on clothes.
As we have already discussed Rowenta's brand reputation, and is known for building durable ironing products this model is a multi-functional item.
It can be used as a dry iron, steam iron, drapery iron, vertical steamer and garment steamer (so many features in a single item).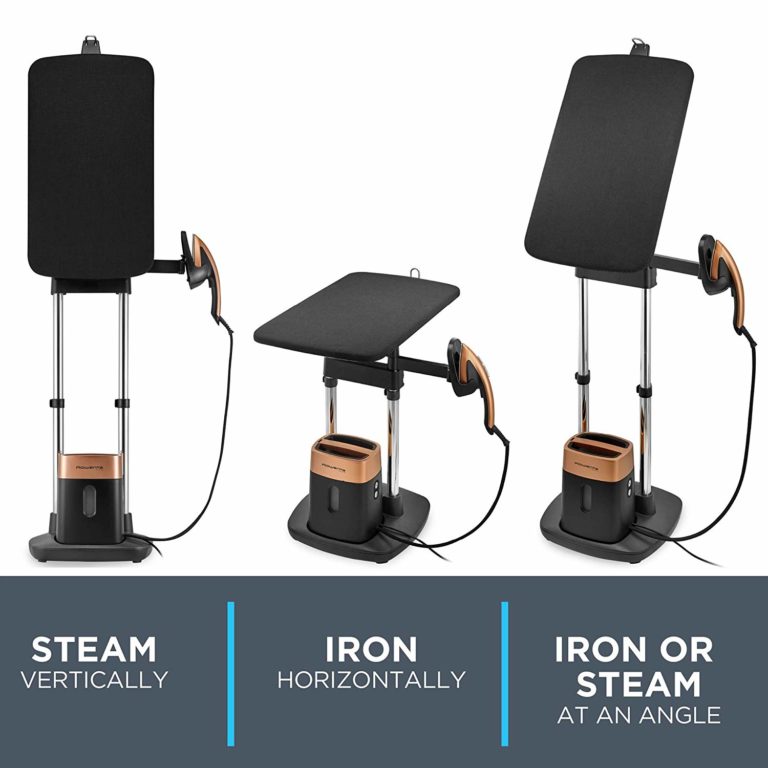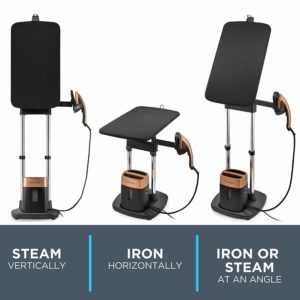 It's a portable steam wand and a water tank is convenient for cleaning sofa and curtain fabrics more easily without any hustle.
It is heated within 1-2 mins and can steam 30 gm water per minute. Wrinkle removal is achieved through 1500W of power and Turbo Steam Technology that offers a high-power up to 5-bar pump pressure.
Some FAQ related to this iron:
Q: Is it hard to start using it?
A: No, as far as you are capable to fill up the tank and plugging it in.
Q: Does it handle wrinkles well?
A: Yes, pretty well. Some fabrics require more time, but 90% – like a charm. I prefer this, because iron may leave "glossy" trails on clothes.
Q: How much time do you spend on a shirt? T-shirt? Jeans?
A: I would say 5 minutes, 2 minutes, 4 minutes. Seriously, very quickly.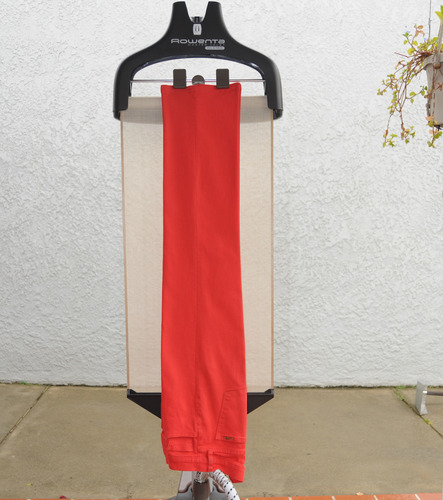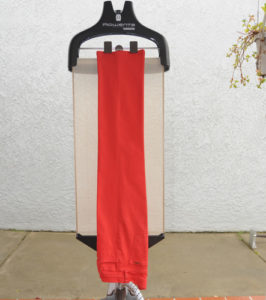 Q: Is steam flow sustainable?
A: Yes, sustainable and hot! if you notice it start "snorting" and steam is not sustainable, just lift the handle all way up so condensate would drain from the pipe back to the 'pot'
Q: How many garments I can steam with one fill?
A: Around 15
Q: Does it have an "auto-off" feature?
A: no
The steamer only takes 45-60 seconds to heat up and produces high-temperature steam for guaranteed removal of creases and also bacteria and mold prevention.
It also has an auto shut off feature when there is no water in the reservoir. It comes with a 1500W superpower for 40g/min large amount steaming.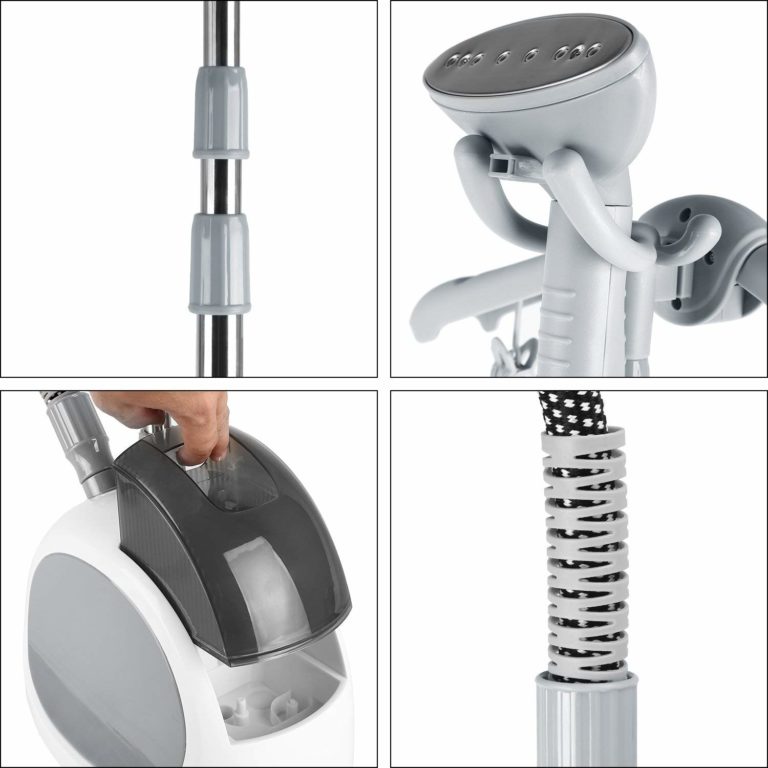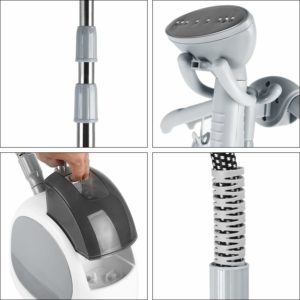 This steamer features a telescopic rod and 360 rotatable hangers for effective clothing removal. (tip: You can adjust the hanger position as you wish)
It can be used with regular tap water but you have to descale it more often. What you can do is use filtered tap water to remove hard particles from it and prevent the clogging of water holes.
Safety Tips while steaming a curtain
Always wear a pair of heat resistance hand gloves.
Always remember to disconnect the electric supply before refilling.
Curtain Steamers FAQs
What is the best steamer for Curtains & drapes?
Some of the best steamer for curtains & drapes are – Rowenta QR1020 IXEO, J-2000M Jiffy Garment Steamer. Rowenta IS6300 is the best budget-friendly garment steamer under $100.
Can you use a garment steamer on curtains?
Yes, you can use a garment steamer on curtains. Start at the top of the curtain and steam the panel, moving down. Hold the iron away from the surface of the fabric. Allow the curtains to dry and cool before moving them.
Should you iron curtains before hanging them?
There are two ways to iron a curtain. Iron the curtain after hanging or before hanging. In case of ironing a curtain before hanging, hang them as soon as possible.
How do you steam clean curtains?
Is clothes steamer worth it?
Is clothe steamers any good?
What are the best handheld steamers?
Can you steam curtains?
How often should you wash your curtains?
Should curtains be washed?
What is the best-rated clothes steamer?
Do garment steamers remove odors?
How do you dust curtains?
Does steaming curtains clean them?
Can you tumble dry curtains?
Can curtains go in the dryer?
Can you dry blackout curtains?
Can you wash the blackout lining?
How do you clean curtains when hanging?
How do you clean heavy curtains at home?
How do you clean curtains at home?
Can clothes steamer kill bed bugs?
What is the best travel clothes steamer?
Can a garment steamer replace an iron?