Cordless Irons are best for tangle free ironing. You don't have to worry about cord management anymore.
Are you looking for the best cordless iron?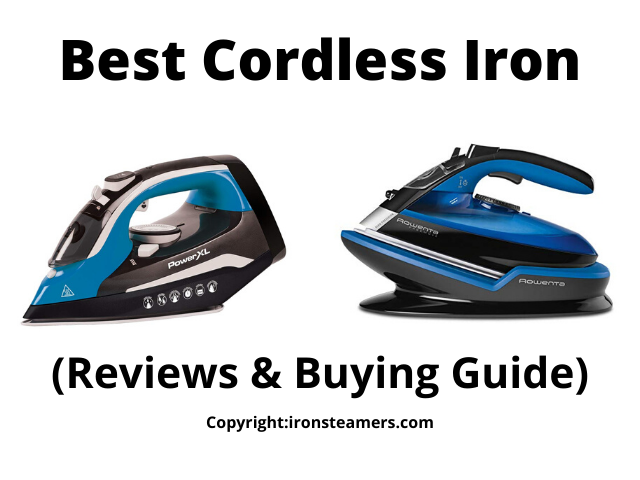 Cordless irons are not so powerful like a corded steam iron, but your work will be hassle-free. Battery powered iron with charging base makes them easy to use.
Let's get started:
Best Cordless Iron
Best cordless irons 2021:
You iron a single part of the cloth and then re-adjust it to iron another part of the cloth. In the meantime, you put the cordless iron to its base and it'll get recharged – ready to use for the next part.
Panasonic is a well-known brand in the electronics industry. They've some awesome steam irons that you can buy. Most of them affordable, reliable and easy to use for beginners.
This is the best cordless iron available in the market that I think is the overall value for money package. When you've got a large number of clothes to iron and want to steam them quickly then this iron might be worth looking.
It has a 1600 Wattage rating, which can heat the iron quickly and get more done in less time. It is always best to choose the higher wattage iron as a thumb rule.
This Panasonic NI-L70SRW can be used as a free mover vertical steamer makes it easy to steam hanger clothes. Another feature that I like the most about this model is that it can be used as a dry iron as well as a steam iron making it more convenient and easy to use.
This model is consists of stainless steel ironing soleplate for better heat generation. It can be used as a steam iron as well as dry iron which makes it perfect for all kinds of material ironing.
This Panasonic model made up of two parts- a charging base and the iron itself. The charging base is connected to a power supply via a retractable cord and the iron rest on it. It also has a detachable water tank, which makes it easy to fill up water.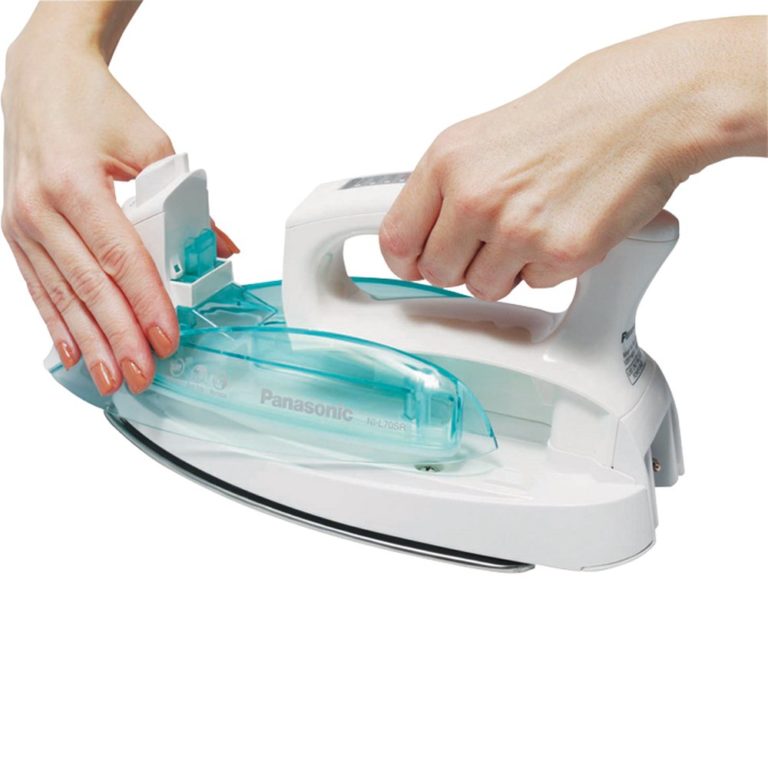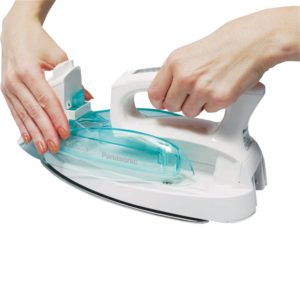 This Panasonic Ni-l70SRW has an automatic shut-off, anti-drip system, and self-cleaning feature that makes it one of the best cordless steam iron.
For safety reasons, the charging base deactivates after 10 minutes if left plugged in and unused, plus a retractable reel neatly stores the cord inside the base.
A lightweight transparent carrying case maximizes portability, perfect for quilters, sewing groups, and crafters.
You can check out other Panasonic cordless iron reviews here.
Rowenta Freemove is one of the best cordless iron that you can fully trust with your clothes. Rowenta is a premium German brand with high quality products & excellent customer support. This freemove cordless iron is another product which many quilters have been using regularly. This is the best cordless iron for quilters & sewers.
The Rowenta DE5020 Freemove model comes with the power rating of 1500 watt. The soleplate is made of stainless steel which comes with 400 steam holes – a patented soleplate created by Rowenta.
When the iron is placed in the charging base, it'll blink a green light and after fully charged the green light will be steady. The base will beep after a certain period of time when the iron is needed to recharge.
It comes with an auto-shutoff function which will turn off the iron when it's plugged on the charging base for more than 8 mins. To reactivate the iron just remove it from the base and replug, it'll be ON state.
It also has anti-calc features which make the iron easy to clean. Just fill the iron to the max water level and put the temp knob to the highest position. Then head over to the sink and hold the self-cleaning button provided on the handlebar.
The same model can be used as a vertical steamer – best for hanging clothes.
You see a single cordless iron can be used a vertical steamer, with auto-shutoff and anti-calcium function is good to have but when you look at the price, it's on the higher side. You can check the current price on Amazon here.
If you are looking for the best cordless iron that you can buy that'll be the PowerXL model that I recommend to my every family member & friends.
PowerXL is a well-known company and they advertise about this model as seen on TV. It is 1500 watts, 120V cordless iron that heated up too quickly. In just 30 seconds, the iron charges to full heat and the temperature indicator light go on.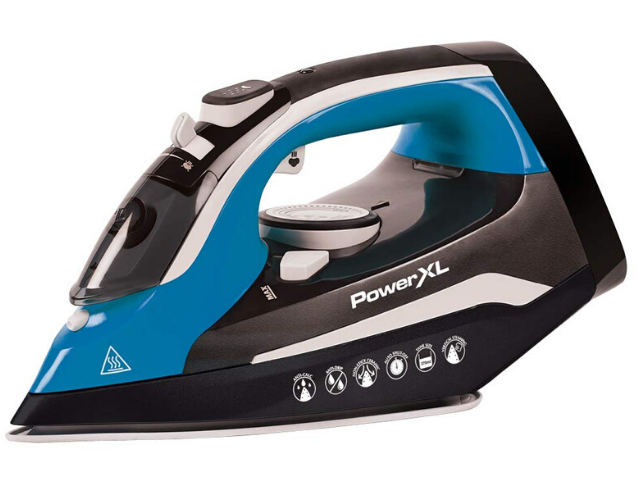 For optimal ironing temperature, place the iron back in the power base as you rearrange fabrics and garments on the ironing board.
Here is my actual review after using the iron:
I was really surprised at how light the iron is itself. Without the cord swinging around it really makes for a better iron! There is a locking feature to keep the iron and the base connected for storage, which is super convenient. The ironing pad that came with it is of great quality! The iron heats quickly and works great!
It also comes with other standard features like auto dripping, auto shut-off, Ceramic Soleplate with Advanced Ion Technology.
The high intensity steam bursts with 19 optimized steam release points relax and smooth wrinkles almost instantly for professional quality results right at home. This Power xl iron and steamer can be used to steam hanging clothes, curtains, and drapes. It can even sanitize pillows and plush toys. It's a fabric and garment steamer and iron all in one.
You can read the full review of PowerXl Cordless Iron here.
This is one of the cheapest cordless iron from the Black and Decker brand. They are one of the best ironing brands all over the world.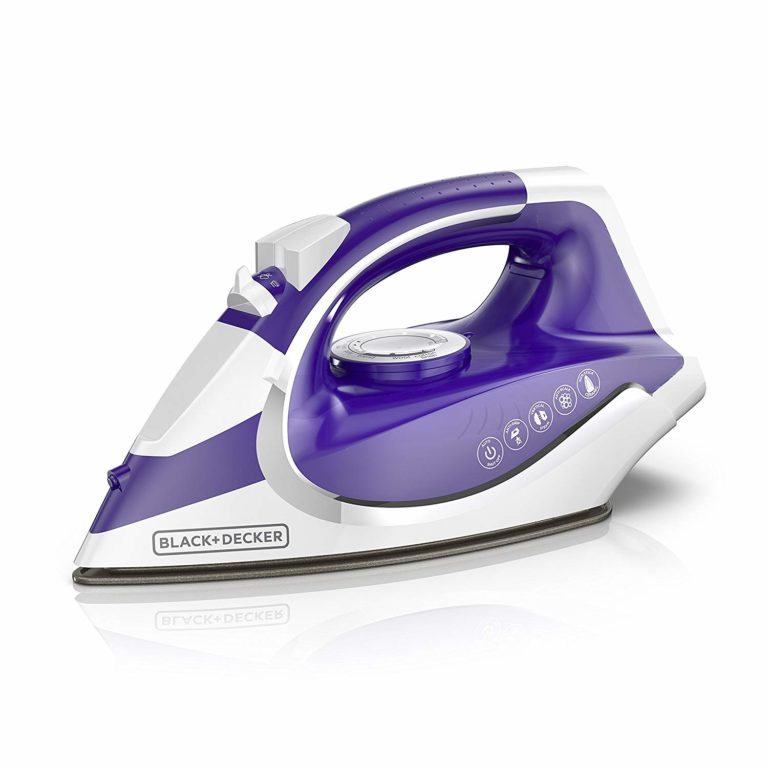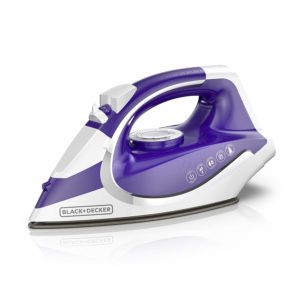 It has a nonstick ceramic soleplate for smooth ironing, but I always prefer stainless steel soleplate.
This model has features like anti-drip, auto shutoff, self-cleaning and anti-scale which makes it the most wanted product in Amazon.
It has a super-fast iron charging base with illuminated lights which indicates the charging process. The charging base can be used as an iron rest and has a 6ft long retractable cord.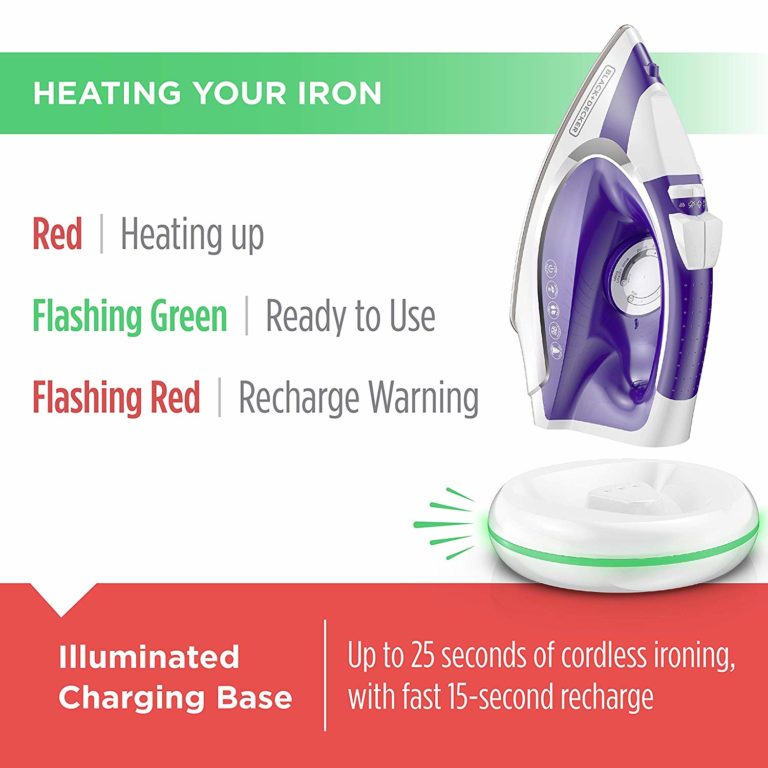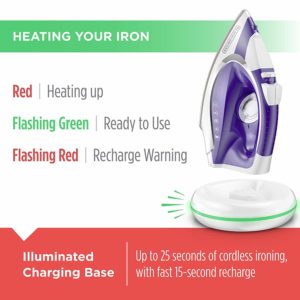 You can use the iron as a steamer for quick touch-ups right on the hanger or for steaming curtains and drapes.
Panasonic is an established brand with the best value for money products. This NI-WL600 model is one of the best Panasonic Steam Iron that shares similar features like the NI-l70SRW model, which we've discussed above.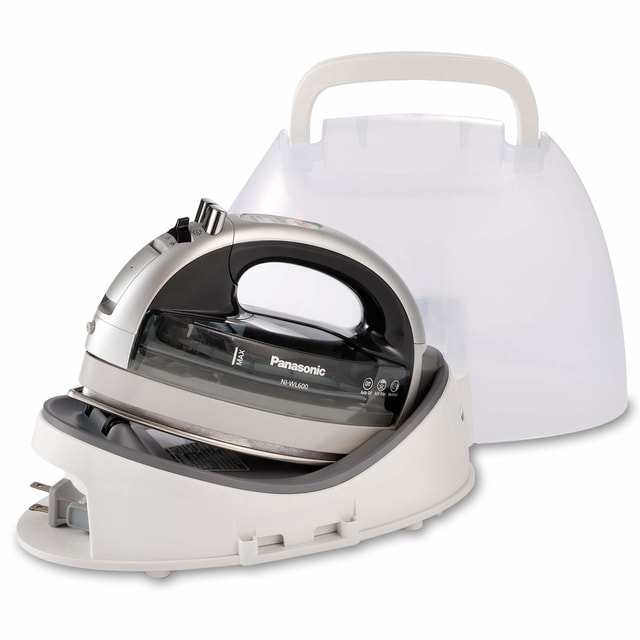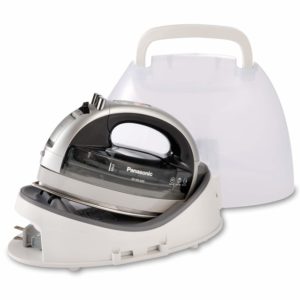 It has a power output of 1500 Watt which seems to be less but can quickly heat the water available in the reservoir. It also comes with a stainless steel soleplate, which heats up quickly and making smooth glide over the clothes fabrics.
It is easy to hold and has a 360° freestyle soleplate that has a double-tipped design to ensure natural movement in any direction. Iron effortlessly forward, backward and even side-to-side for precision. Making it comfortable to long use.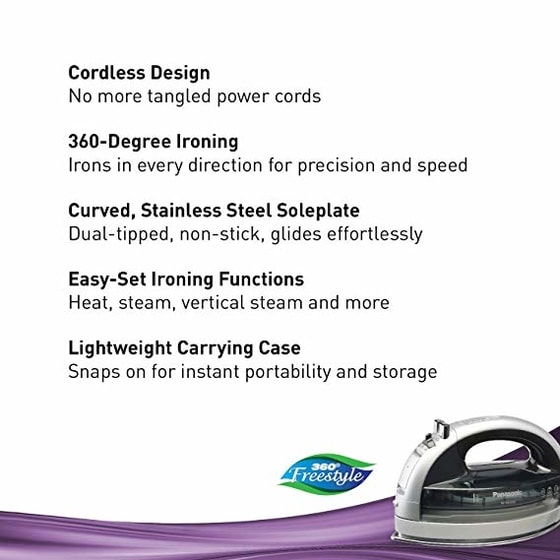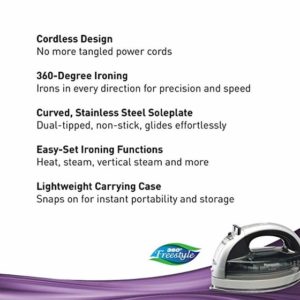 As a cordless steam generator iron, this model can be used as a vertical steamer. It also has an ergonomic steam burst button which makes it the best cordless iron for curtains & bedsheets.
It has a variable steam option which lets you choose between heat, steam and dry iron mode.
It also has an auto safety shut-off feature it helps if you're interrupted or called away while ironing and forget to unplug the charging base, it automatically turns itself off after 10 minutes.
It has other features like anti-drip, anti-scale, autofocus, and self-cleaning mode which are pretty much every standard iron should have.
It also has a removable water tank. Fill the iron's water tank at the sink without bringing the whole iron with you. A durable, lightweight water tank easily detaches for no-spill refills.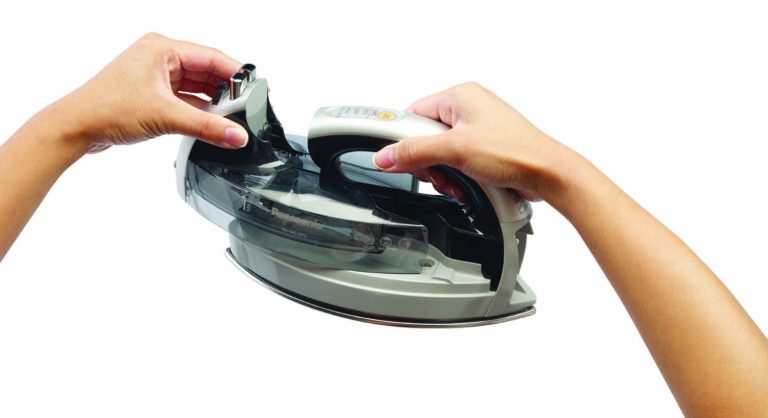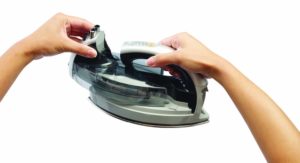 The Panasonic NI-WL600 includes a heat-resistant, see-through carrying case. Simply snap it onto the iron and base after use for easy portability and storage. Other listed products didn't include any carrying case, making it an easy win for everyday users.
Make no mistake, cheap but usable. This is the cheapest option for cordless iron on the market. Sunbeam is a well-reputed company in the ironing segment and they have created the GCS-101 model for low budget users.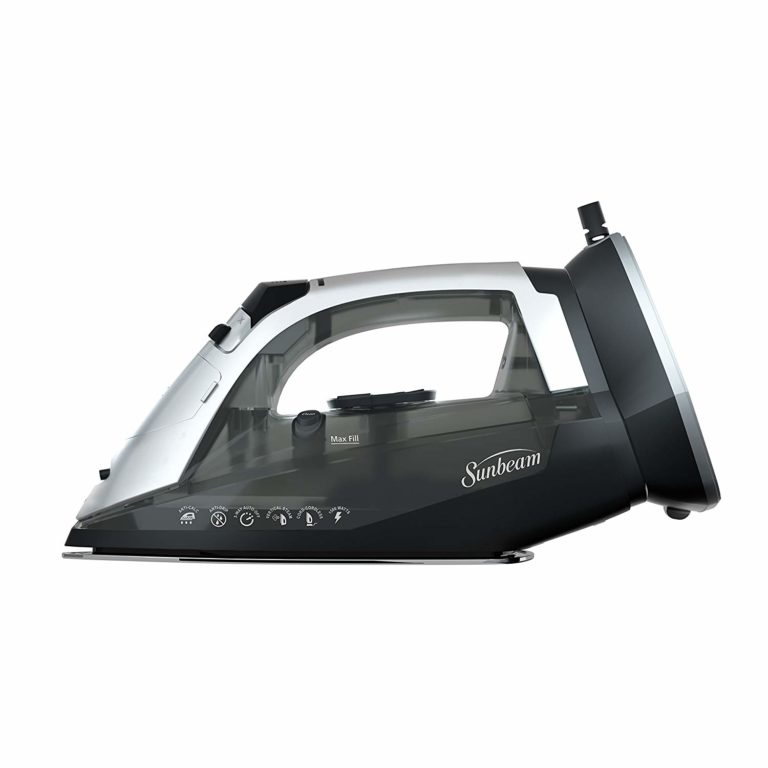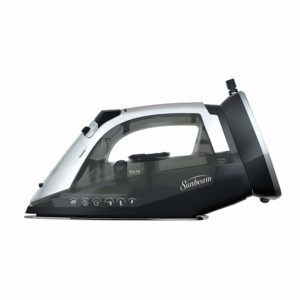 Now, this model comes with a useful feature called corded or cordless option that can be useful for a common man like you and me.
So whenever you feel that you need to do ironing quickly (and have more than 5 pieces of clothes) then use the corded function. And use the cordless iron when you have got a lower number of clothes.
This model is powered by 1500 watts and heated up quickly. It also has standard features like anti dripping, auto shutoff, and anti-scale function with self-cleaning mode.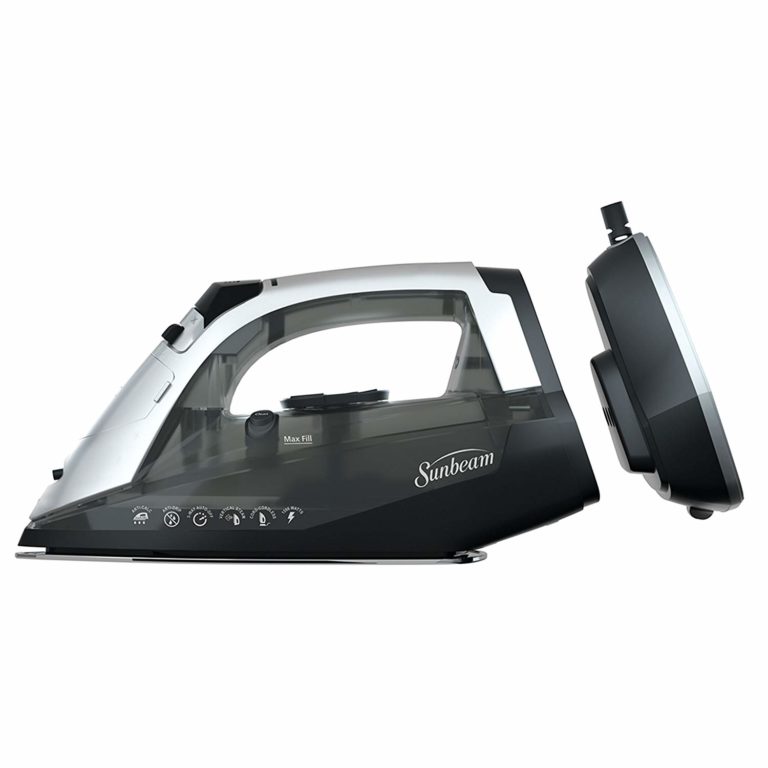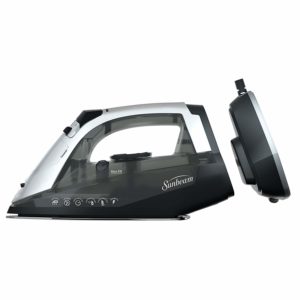 Note: Auto-shutoff function gets activated when the iron is not used for 30 mins, that's a long period. this is exactly what I don't like about this iron.
This model can be used as a cordless iron only for 5 minutes only on medium temperature settings.
This model also can be used as a vertical steamer but honestly, I don't know how this going to work as a vertical cordless steamer.
Cordless Iron Brands
Some of the best cordless iron brands are – Panasonic, Tefal, Black & Decker, Rowenta and PowerXL. I've ranked them based on their usability and price tag. I think these two are the main concern for a user when it comes to ironing.
Cordless Irons vs Corded Irons
As the name suggests, cordless or wireless iron means without any cord.
Cordless iron Pros:
Without any cord- it means no worry about the cord getting your way or snagging your garment as well.
Easier to iron – the iron itself standalone so you can iron 360 degrees freestyle.
Cordless Iron Cons:
Most of the cordless irons are lightweight which makes it easy to portable but you've to press hard to get wrinkles out of the fabric.
The power output is high (1500-1700 watt) but you can't use the steam iron for more than 30 sec to 40 sec without resting it on the charging base.
You've to connect the charging base to the power outlet and rest the charging base on the ironing board.
Corded Iron Pros:
Continuous desired heat output- when you have got a corded iron it can give you steady heat output according to chosen settings. It can auto-cut power when the optimum temperature reached and can save electricity.
The water reservoir of corded iron is also bigger than cordless iron and can provide high steam output.
The power output is also high around 1700-2000 watts, which heat the steam iron within 2 -3 minutes.
Corded Iron Cons:
The cord gets in the way – The cord can tug and snag the garment that you are ironing which can be frustrating that's why many people recommend cordless irons.
Difficult to store – Unless you get a retractable cord iron or a carrying case, storage is a hassle for corded units.
How do a Cordless Iron Work?
The cordless iron comes in two parts: the iron and a charging base. It uses special heating elements that are based on a rechargeable battery. The battery is charged through the charging base for as long as necessary to generate enough heat to iron the clothes.
What should you choose clothes ironing?
What to look spec. in a cordless iron?
How long does the iron stay hot enough to iron and produce steam before you have to reconnect to the base?
It depends on the power output of the iron. You can read the manual of the specific freestyle iron. My iron gets me around 40-50 sec before I have to connect it to the base.
How long does it take to heat up?
Does the base have to stay plugged in all the time?