Can you use steam iron without water?
Is it possible to use a steam iron as a dry iron?
In this article, we're going to explain if you can use iron without water and if so, how to use it.
Let's get started:
Can I use a Steam Iron without water?
A steam iron without water inside the tank works like a dry iron and it's OK to use. However, you cannot use the steam spray function and it'll require more time to remove wrinkles from clothes. So if you've time and patient, use the steam iron as a dry iron by removing the water from the tank.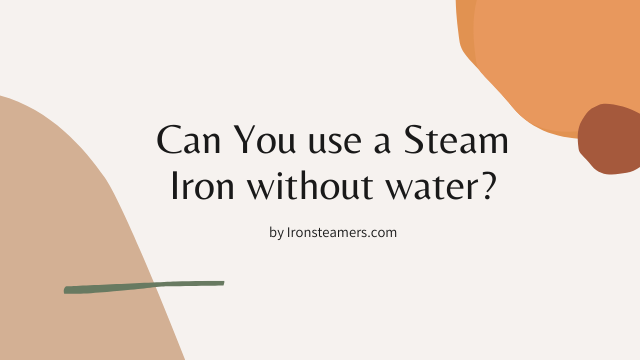 Some fabrics, made from fibres that can break down when exposed to steam are preferred to use a dry iron.
Ironing without water is hard and may damage fabrics quality. Water helps to loosen up the fabric and heat allowed them to be tightened properly.
Most laundry experts suggest using a steam iron or fabric steamer to prolong your clothe's life and save lots of ironing time.
Another question which people can you iron a wet cloth with a dry iron?
Do you have to put water in an iron?
If your iron features a steam function, then you need to add water into the water tank. Plug in the iron (steam iron) and turn the heat dial to the setting to the appropriate setting for your fabric.
If you want to use your steam iron as a dry you don't need to put water into the iron. Some irons come with a dry iron option so that you can use the steam iron as dry iron.
Do all irons need water?
You can use an iron without putting water into the water tank. Dry irons don't need water to work and even you can use steam iron without water.
How to use steam iron as dry iron?
Here's how to use your steam iron as a dry iron:
Step 1: Start by washing your clothes. Washing removes any dirt, debris, and oils that can stick to the soleplate of the iron easily while ironing.
Step 2: Remove the water from the water tank. Some steam irons come with a removable water tank, some will come with a built-in water tank. Remove the water by turning the iron upside down.
Step 3: Select the dry setting. Most of the iron comes with a dry setting to use as a dry iron. If your iron doesn't have a dry setting, just use the lowest minimum temperature and gradually increase it.
Step 4: Start the iron and let it pre-heat. When you're ready to iron, start the iron by connecting it to the power supply. Some iron will take anywhere between 2-5 mins to reach the ironing temperature.
Step 5: Ready your clothes & use an ironing board. While preheating the iron, ready your clothes to be dry ironing and when doing so use an ironing board or ironing pad for better protection.
Step 6: Do the ironing and unplug it when done. After ironing, let the iron cool down and unplug it from the electrical supply. Don't re-fill the water tank while the iron is hot.
Conclusion
We hope that you found this article helpful. To summarize, you can use steam iron without water as dry iron and there's no harm to the iron.