Is your iron beeping continuously?
It's frustrating.
I know and it's happened to one of my family members.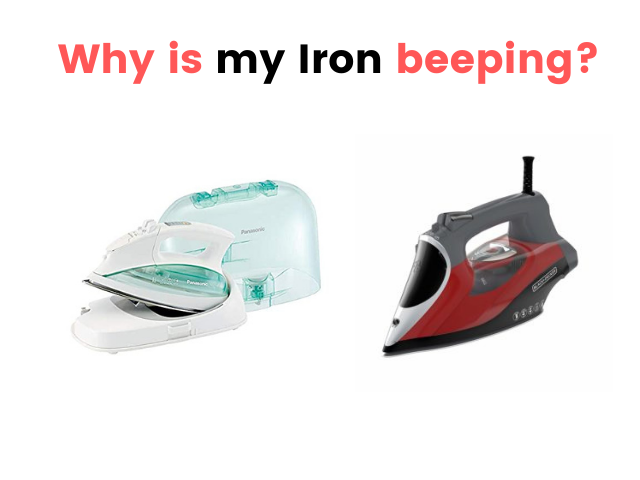 She has a Sunbeam turbo steam master professional iron and it's started beeping suddenly.
She called me! I looked into the matter and fixed it with the help of the below instructions.
Let's get started:
Why is my Iron beeping?
Most of the irons beep when it's ready to iron. You've set the temperature dial and it's reached that temp point and it's ready to use. But if your iron is beeping continuously maybe it's because you've left it without unplugging or turning it off and the auto-shutoff activated.
Why is my Sunbeam Iron beeping?
If your Sunbeam Iron is beeping, according to the directions that came with the iron, I believe it is supposed to beep (meaning ready to iron) when it heats up to the temperature you have set and/or after it has been timed off due to temporary non-use.
This is happening due to the auto-shutoff function, after not using the iron for a longer period (say 15 mins).
Many users complained about the Sunbeam turbo steam iron, it started beeping suddenly. However many other irons like Hamilton beach iron, and Black and Decker irons also have this issue.
How to turn off/prevent Iron beeping sound?
To turn off an iron's beeping sound, you should unplug it before going out or doing any other housework. The auto-shutoff function cut off the temperature to prevent burnout. And when you come back from other work and try to use it starts to beep.
If your iron is beeping continuously, it may have an empty water tank or need a self-clean. In this case, you need to refill the water tank or press the self-cleaning button.
How do I stop the beeping sound of my iron?
In my case, the water tank was empty and the iron needed self-cleaning. So I refilled the water tank and pressed the self-clean button.
That solved my problem!
If you're having a problem stopping the beeping sound from your iron, post a comment with model no. so that I can look into the matter.