You want to remove wallpaper from your house and need to know if you can use a clothes steamer or not?
Right? You've come to the right article.
In this article, I'm going to show how can you use a clothes steamer to remove wallpaper with easy step by step process.
Wallpaper steamers are used to remove wallpaper. Wallpaper steamers are more powerful and costlier. The best alternative a powerful steamer.
We recommend Jiffy J-2000 or Rowenta IS8440 or PurSteam 2021 clothes steamers as an alternative.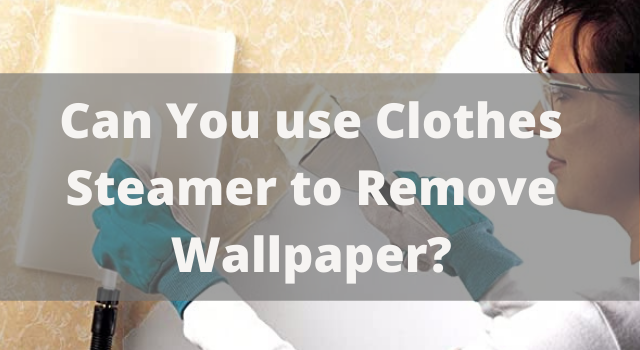 Can You use Clothes Steamer to Remove Wallpaper?
You can use a clothes steamer to remove wallpaper. However, clothes steamers are less powerful than wallpaper steamers. You may need to use the highest temperature settings with a steam burst mode multiple times.
Can you take wallpaper off with an iron?
The high heat produced by the steam iron softens the wallpaper facing, glue and backing. A steam iron must be used properly in wallpaper removal.
Not only can the steam cause injury or burns, if applied improperly, but it can also damage the wall behind the wallpaper.
How long does it take to steam off wallpaper?
Thicker wallpapers will take a long time to remove while thin ones will take a short time. With a good steamer, 25-30 minutes are enough to loosen the glue and make peeling or scraping off easy.
Can you use a Karcher steamer to remove wallpaper?
This Karcher steam cleaner accessory can turn your steam cleaner into a wallpaper-stripping unit. The attachment connects easily to your steam cleaner's handgun and then uses the powerful steam pressure to remove even the most stubborn of wallpaper and paste. A great fast effortless way to remove wallpaper.
Removing Wallpaper with a Steamer Step by Step
Removing wallpaper isn't an easy task and can take around 30 mins to peel off. Steamers help to soften the wallpaper glue, backed by product high-temperature steam.
Use protective gear like hand gloves, eye protection is also necessary while doing this type of work as the steam temperature is high.
Tools: Paper trigger, Clothes steamer, Scrapping tool.
Step 1: Ready the wall
Remove everything from the wall that we're going to work with. Paintings, pictures even furniture from that wall.
Remove all the electrical appliances from that wall maybe charger, light, etc. Cover all the electrical outlets in the wall using duct tape.
Protect your floor from this water steam by covering them with plastic & rigid fabrics.
Wear protective gear to keep yourself safe from high-temperature steam.
Step 2: Perforate the wall
Use a wallpaper-perforating tool such as a "paper tiger," which has rollers with small spikes that punch tiny holes in the paper.
This will allow the steam to penetrate the wallpaper easily and soften the glue.
Step 3: Steam the wall
Start your clothes steamer or wallpaper steamer and make sure it's ready to produce steam.
When the clothes steamer is ready, place it in the wall and use the "steam burst" button 3-5 times.
You'll see that the wallpaper started to loosen out. Use the scraping tool to remove the wallpaper properly. You can use a putty knife or a drywall knife to remove the wallpaper.
Step 4: Clean the wall
Clean the wall to remove glue residue and traces of wallpaper with warm water and a soft sponge.
If the wall needed touch-ups or drywall needed a fresh coating, clean and paint it properly. Thus your wall will be ready for repainting or a new wallpaper installation.
Best Wallpaper Removing Steamer
If you're looking for the best wallpaper steamer that is specifically made for wallpaper removing purposes you can check out this Wagner Spraytech (1 Galon) or Wagner Spraytech (budget option).
Clothes Steamer vs Wallpaper Steamer
| | | |
| --- | --- | --- |
| Name | Clothes Steamer | Wallpaper Steamer |
| Water tank | 11 Oz | 1 Galon or more |
| Hose | 3-5 Ft | 12ft |
| Power Cord | 1- 1.5 metre | 3-5 metre |
| Steam time | 15 mins (max) | 70 mins (max) |
| Warranty | 1 year warranty | 1year warranty |
clothes vs wallpaper steamer -which is best?
Conclusion
As you've already known that you can use a clothes steamer to remove wallpaper but it will be time-consuming when compared to a proper wallpaper steamer.
For small wallpaper areas, you can use a clothes steamer but for a large wall, you may need to use a wallpaper steamer which can cost anywhere between $50-$300.
The Wagner Spraytech wallpaper steamer costs around $50-$60 and will save a lot of time compared with a clothes steamer of the same price range.