There are many irons on eCommerce websites to choose from. Which one you should choose- a cheap or an expensive steam iron?
What's the difference between a $40 steam iron and a $300 steam iron?
In this guide, I try to explain this stuff by comparing two different-priced steam iron later in this article.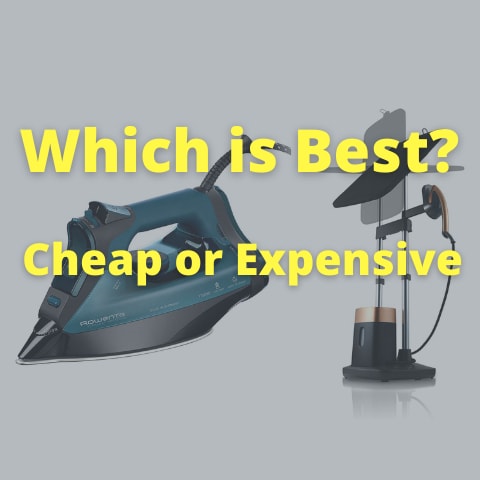 Are expensive irons worth it?
Yes, expensive Irons are worth the money with 5 to 10 years lifespan. Using a feature-rich Iron it'll save you time on Ironing clothes, and the auto-shut-off feature will keep your family and clothes safe.
Do you need a steam iron that will heat up quickly, has a large water tank, an anti-calc feature (which fights with hard water), and an auto-shutoff function (to prevent an accident like burning clothes, child safety, etc.), then you need to spend some money (not $300 dollar but around $100-$150).
Remember most of the iron in this price range will last around 2-5 years. You can give our best iron for clothes list a try.
And if you're looking for a low-budget steam iron that will only have basic functions like – a low-capacity water reservoir, less power, and fewer features like anti-calc, anti-drip, spray function, etc. then go for locally made products as they will be cheaper but less reliable.
Here are some of the pros & cons of expensive steam iron that are worth buying:
Pros of Expensive Steam Irons
When you go for a good steam iron, it becomes easier for you to press clothes effortlessly. Expensive irons with great features help you in saving time and effort on the table.
As there are plenty of features available for you to choose from and set for different temperatures that don't allow burring of your clothes.
The expensive ones focus on developing a fine-quality handle that helps you to use it smoothly.
Expensive steam iron, obviously, has more features than other irons. There are more streaming options as well as temperature levels. There are vertical steaming options in the expensive pieces which is not the case with cheap ones.
Setting options according to the fabric type is a hell of a good feature which is certainly not available too much in other irons having low prices.
Lage Size of the Water Tanks
Water tanks with larger sizes make you feel better as you don't need to put water in short time intervals. Tanks with large sizes allow the iron to generate steam in large amounts.
Cons of Expensive Steam Irons
When you look for the best, you need to pay for the best. If you don't have enough money in your pocket, then you won't be able to buy an Iron at a high price.
If there's a problem with an expensive steam iron, you may need to pay bigger as well. The soleplate repair requires a lot which is sometimes not affordable for a person having no money.
The expensive irons have expensive machines in them. They are not very easy to carry as well.
Now let's check out some of the pros & cons of a cheap steam iron:
Pros of Cheap Steam Irons
The budget is the most important factor to consider when you're choosing something like Panasonic NI-R36-P Code reel Steam iron over Maytag M1200 Digital SmartFill Iron and Vertical Steamer.
The cost of the former is almost one 3rd of the latter. This is the reason why cheap irons provide you with the advantage of a lower cost.
Most cheap irons are also lightweight. The lightweight of the iron makes it easier to use.
In case you are searching for a lightweight iron, options like BLACK+DECKER Light 'N Easy Compact Steam Iron, and Sunbeam Steam Master GCSBSP-201-FFP 1400 Watt Iron will fulfill your requirement quite easily.
Most cheap steam irons do not have a lot of features. They just have basic features. Owing to this very reason, they are pretty easy to use for beginners.
Cons of Cheap Steam Irons
When you are opting for cheap irons, it's well known that they will be lacking in some of the other factors.
Most of the cheap steam irons are not able to produce a high amount of steam. On the other hand, when you're choosing an expensive option like the Maytag M1200 Digital SmartFill Iron and Vertical Steamer the amount of steam produced will be on the higher side.
In many cases, a lightweight iron is not that useful. To remove wrinkles, you've to press hard on the fabric.
Most of the cheap irons are affordable owing to the moderate quality of materials used. One of the parts of the cheap irons which suffers the most due to this is the soleplate.
The problem is that if the soleplate is not proper, the steam iron will not last for a longer period of time.
As a result of all these cons, you will require more effort to iron the same clothes. This also means that you will have to spend more time ironing the same number of clothes as well.
Verdict
If you're looking for a steam iron that's under $100 then most of the laundry experts (including me) recommend the PowerXL Steam Iron (cordless) & Rowenta DW6080 (corded) model.