Are you looking for the best Jiffy garment steamer?
When it comes to the steamer, Jiffy is a reliable, durable made in USA garment steamer brand.
Jiffy garment steamers are priced higher, but for long term users Jiffy steamers are money saver.
In this article, we've included the best Jiffy garment steamers reviews with pros and cons.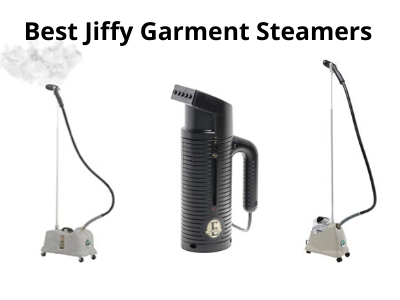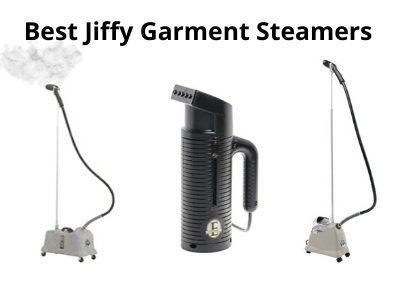 Also we've published a Jiffy steamers buying guide to help you choose the best model depending on your needs.
Let's get started:
Best Jiffy Garment Steamers
Also you read our guide on best steamer for curtains and drapes from here.
When it comes to professional garment steamer within budget, this J 2000 model stands out from the crowd. It comes with 2 types of steam heads with two different colors.
It consists of a solid brass heating element. Brass is highly durable as compared to any other material used in the construction of heating elements. The 1300 W solid brass heating element makes this garment steamer an excellent option.
It can produce steam in only about 90 seconds after being filled with water and turned on. This is great for those on the go, providing it has a water tank capacity of 3/4 gallon or 96 ounces with 1300 watt power.


A large water tank helps to generate steam for up to 1.5 hours. You can clean your garments like clothes, drapes & curtains within one filling.
Convenience is another factor worth looking for these types of steamers. Portability is ease as its wheeled base allows it to move well and position where you need it.
It comes with 4 different options:
J 2000 with Plastic steam head
J 2000 with Metal steam head
J 2000 with Plastic steam head in Pink color
J 2000 with Metal steam head in Pink color
If you ask me, I would go for the J 2000 plastic steam head model as opposed to the metal steam head. As many people complained about the metal steam head, making a hissing sound.
Features:
Power: 1300 W
Tank: 96 ounce
Heat-up time: 2 min
Steam time: 1.5 hours
Weight: 17 lbs
Pros:
Highly durable
A solid brass heating element.
6 inch Wide Plastic Steam Head.
A high-impact plastic outer housing.
A 5.5-foot flexible hose.
Generates steam for 1.5 hours on a single refill.
Cons:
Metal steam head making hissing sound after using it for more than a year.
This Jiffy model is also considered as one of the best heavy-duty commercial garment steamers available out there.
While J 2000 is a perfect fit for most of the users, the model lacks in power. This J 4000 comes with 1500watt power and heating is almost instant.
You'll never feel the time it takes to steam the water. For nerds like myself, it takes around 45-60 seconds to fully heated up with a water tank capacity of 3.79 liters. J 2000 model has a water tank capacity of 2.84 liters.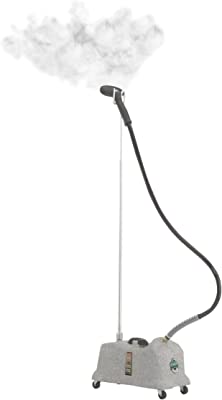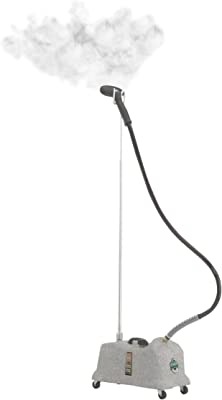 The large water tank provides continuous steam for 2 hours long, best for clothing stores and boutiques.
And when you look at the warranty periods of 3 years, they are durable and reliable. 3 years is a long time and ensures the product is of high quality.
Features:
Power: 1500 W
Tank: 128 ounce
Heat-up time: 1 min
Steam time: 2 hours
Weight: 24.6 lbs
Pros:
Heavy-duty construction.
Powerful heating element.
Preheat and Steam Settings.
Dual thermostats.
Cons:
Heavier unit compared to other models.
Heavier steam head
Jiffy has a variety of steaming products including a handheld steamer named – ESTEAM.
Jiffy Esteam is best for travelers as it weighs around 2.55 pounds.
It has a water tank capacity of 1.8 liters. It comes with 600-watt power which steams the water within 1 minute or so. It can be used for 15 min long in one filling.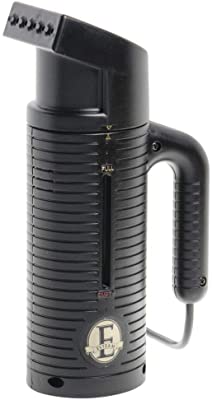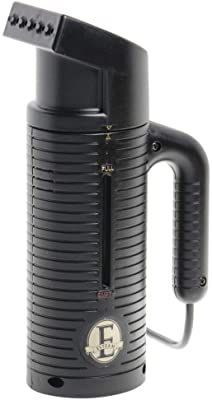 Another great feature that comes in part from its being made for travel is the ESTEAM handles hard water better than many other steamers. There is a cleaner available to remove hard water buildup, but most users said it was not needed as often as many other travel steamers.
It is one of the best handheld steamers for bed bugs that you can buy online.
Features:
Power: 600 W.
Tank: 96 ounces.
Heat-up time: 1 min.
Steam time: 15 min.
Weight: 2.55 pounds.
Pros:
Ideal for travel.
Handles hard water very well.
Double-insulated material.
Cons:
Steam control buttons not available.
While the design aspect isn't so cool about the Jiffy J-2 model but certainly has some serious power under it. It is powered by a 1300 watt and has a water reservoir of 128 ounces.
This model is a quick heater and can be used for 2 hours without refilling it. The water tank sit on top of it and you can remove it for refilling.
Jiffy J-2 model can be used not only for steaming clothes but has the capacity and power to handle steam cleaning carpets and rugs.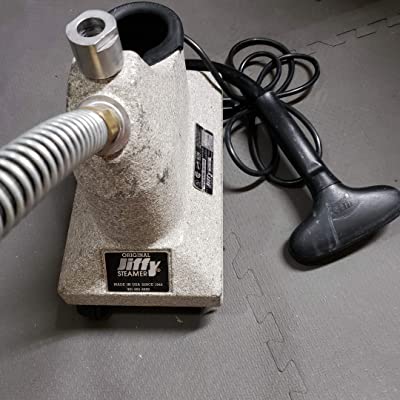 Even the J-2I model (for professional users) comes with several attachment heads to enable you to take full advantage of this model.
The J-2 has a die-cast aluminum body, giving it a durability that one would normally only see in industrial or professional units. However, I know someone who is using Jiffy for a long time (more than 8 years) and she complains about this aluminum body due to water leakage.
I think wear & tear is a part of our life and she needed to buy another model. 🙂
While this isn't an issue for a new buyer because it comes with a 3 years warranty. Protect you even if the product is defective.
Features:
Power: 1300 W.
Water Tank: 128 ounces.
Heat-up time: 2 min.
Steam time: 2 hours.
Features: Die-cast aluminum housing.
Pros:
5.5-foot flexible hose.
Versatile uses.
Cons:
Costlier than other products
Conclusion
Jiffy has come a long way from general steamers to heavy-duty steaming. Their products are top-notch, can be used as a personal as well as a professional steamer.