Are you looking for the best commercial garment steamer?
Heavy-duty garment steamers are more powerful, durable and best for professional use.
Even you can rent your garment steamer to others and make a viable business out of it.
In this article, we've reviewed some of the top 10 commercial professional steamer to help you make a smart decision.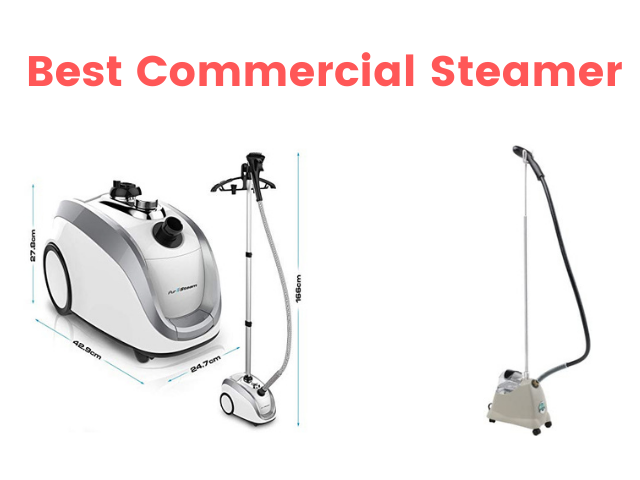 Best Commercial Garment Steamer
A professional garment steamer has more than enough steam pressure and power when compared to a steam iron or clothes steamer. They also tends to have large water tanks for better steaming.
Even you can steam a variety of fabrics including bed sheets, sofa covers, linens, table clothes, delicate fabrics and curtains.
Also read: Best steamers for curtains and best Jiffy steamers from here.
When it comes to the professional steamer Jiffy has nailed it. The brand mainly focuses on heavy duty steamers that a professional would want to buy. They are so powerful and user friendly that nearly every laundry businesses has one or even more.
This J-2000M comes with a 1300 watt power and has enough water tank capacity for using 1 hr long. Though we haven't found any water tank capacity details on the product page.
As per our internal testing, the capacity is around 3/4 gallon. We are in touch with the Jiffy brand for a product review for better assessment.
Our editor, Herman is a professional laundry expert and she has one of these garment steamer. According to her, this J-2000M Jiffy steamer will removes wrinkles in no time. She mainly uses it for jeans, bed sheets, curtains and drapes.
It has 5 ½ foot flexible hose so that you'll do steaming from a single point without changing the cord multiple times. It comes with 4 interchangeable metal steam heads consisting of a 9 inch bent aluminum pipe.
The wider the steam head the better steaming area covered by the steamer.
Features:
1300 watt solid brass heating element.
High-impact plastic outer housing for durability
Quick two minute heat-up time
5.5-foot hose with the 6-inch steam head
Steam Time per Filling: 1.5 hours
Cons:
120 volt for North America use only.
Another well known brand is Rowenta. They are a German brand with excellent customer support and has powerful steamers on their production list. They are pioneer of the ironing industry has a lot of patented ironing technology that will make your steaming more easy.
Rowenta IS9100 model has the power of 1550 Watt and has the water tank capacity of 1 gallon. We have listed it on 2nd place, because they are not so good for professional steaming and only recommended to everyday user, for a family.
It has a 5 ft retractable cord which is useful while storing the iron. The iron heated up with 60 sec and can work for 2 hrs in a single refill thanks to its power and water tank capacity.
The ON/OFF switches are foot operated and convenient for users. Telescopic pole is adjustable and slides down for storage; integrated hanger and wand holder makes it easy for clothes steaming.
The IS9100 comes with an on board tool storage that includes a fabric, upholstery, lint brush and crease attachments.
Features:
Power: 1550 watt
Water tank: 1 gallon.
Steam Time per Filling: 2 hours
Cons:
Another Jiffy product made it to the list of commercial garment steamer is J-4000C model. It's a Jiffy Pro-Line Series Commercial Carpet Steamer with Metal Head.
J-4000C model comes with the power of 1500 watt which is more than the J-2000M model. With these much power it does steaming fast and removes creases in no time.
Most of the users recommended this model as best steamer for curtains. However, be gentle with shower curtains as they require less temperatures.
The model features a 5.5 ft cord length and has a water tank capacity of 1 gallon. As per our research, it costs around $300 which seems a high pricier item with less power but specially designed for commercial and professional uses.
The water reaches standby temperature within 15 minutes, then ready to steam within 2 minutes. The outer case consists of solid die cast aluminum with all brass couplings for better durability.
Features:
Power: 1550 watt
Water tank: 1 gallon.
Steam Time per Filling: 2 hours
Cons:
110 volt. Only for USA & Canada.
PurSteam Heavy Duty Steamer
PurSteam is a budget friendly brand and yet comes with powerful ironing products that you can use everyday. PurSteam PS-937 model comes with the power of 1500 watt. The water tank capacity isn't mentioned anywhere.
This model is the budget friendly heavy duty garment steamer which has 4 steam levels for precise steaming.