Is it recommended to buy Rowenta DW6080u1 steam iron in 2021?
In this Rowenta DW6080u1 review, you're about to find out the good & bad about this most affordable steam iron.
Rowenta DW6080u1 is an energy-saving steam iron comes with an eco-intelligence mode that saves a lot of electricity.
In this guide, I am going to do the full review of the Rowenta Eco intelligence model with the installation guide, features with actual owners review.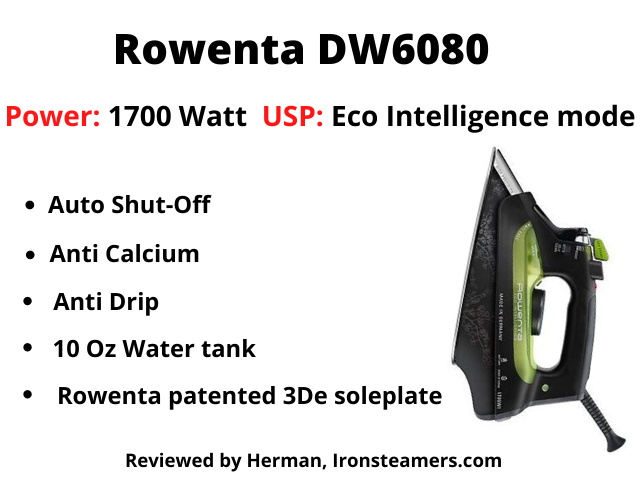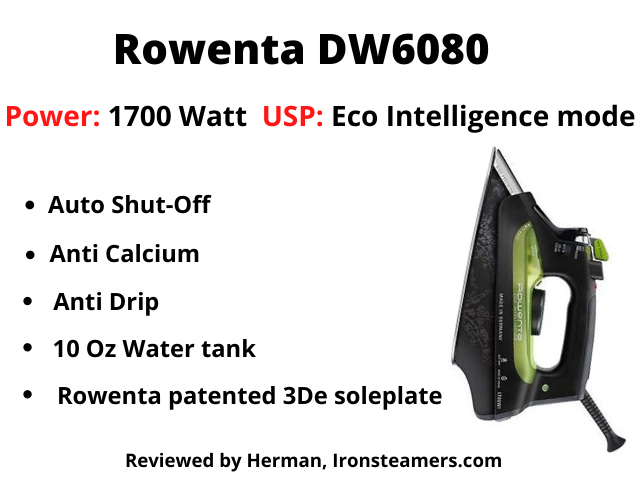 Let's get started:
Rowenta DW6080 is a 1700 watt powered steam iron with 10 Oz water tank, 400 steam holes & stainless steel soleplate. DW6080u1 model has features like auto-shutoff, anti-drip & anti-calcium. The model heated up within 60 seconds and it's eco-intelligence mode save 25% more than other models at its price range.
Specification
Specification of Rowenta DW6080u1:
Power: 1700 watt.
Soleplate: Stainless Steel soleplate.
Water tank: 10 Oz.
Heating time: up to 60 sec.
Steam settings: Dry, ECO & Boost mode
Steam output: 60 gm/min
Soleplate Design: Rowenta patented 3De soleplate
USP: Eco mode saves electricity up to 25%.
Auto-shutoff: Yes.
Anti-drip: Yes.
Anti-calcium: Yes.
Vertical Steaming: Yes.
We all love to know a little bit of specification, but what matter is how efficiently a model can work on the real world. Let's see:
Power Rating:
Power rating is an important feature that every user check in an iron. The higher the wattage rating the better heat up time of that iron. Rowenta DW6080 model comes with a 1700 watt power which helps the iron to heat up within 60 seconds.
Eco Intelligence:
The Eco Intelligence is 25% more energy-efficient than standard irons while still delivering the same high performance that demanding users expect from Rowenta irons. The Eco position delivers an optimal steam output to iron efficiently all fabrics while saving energy.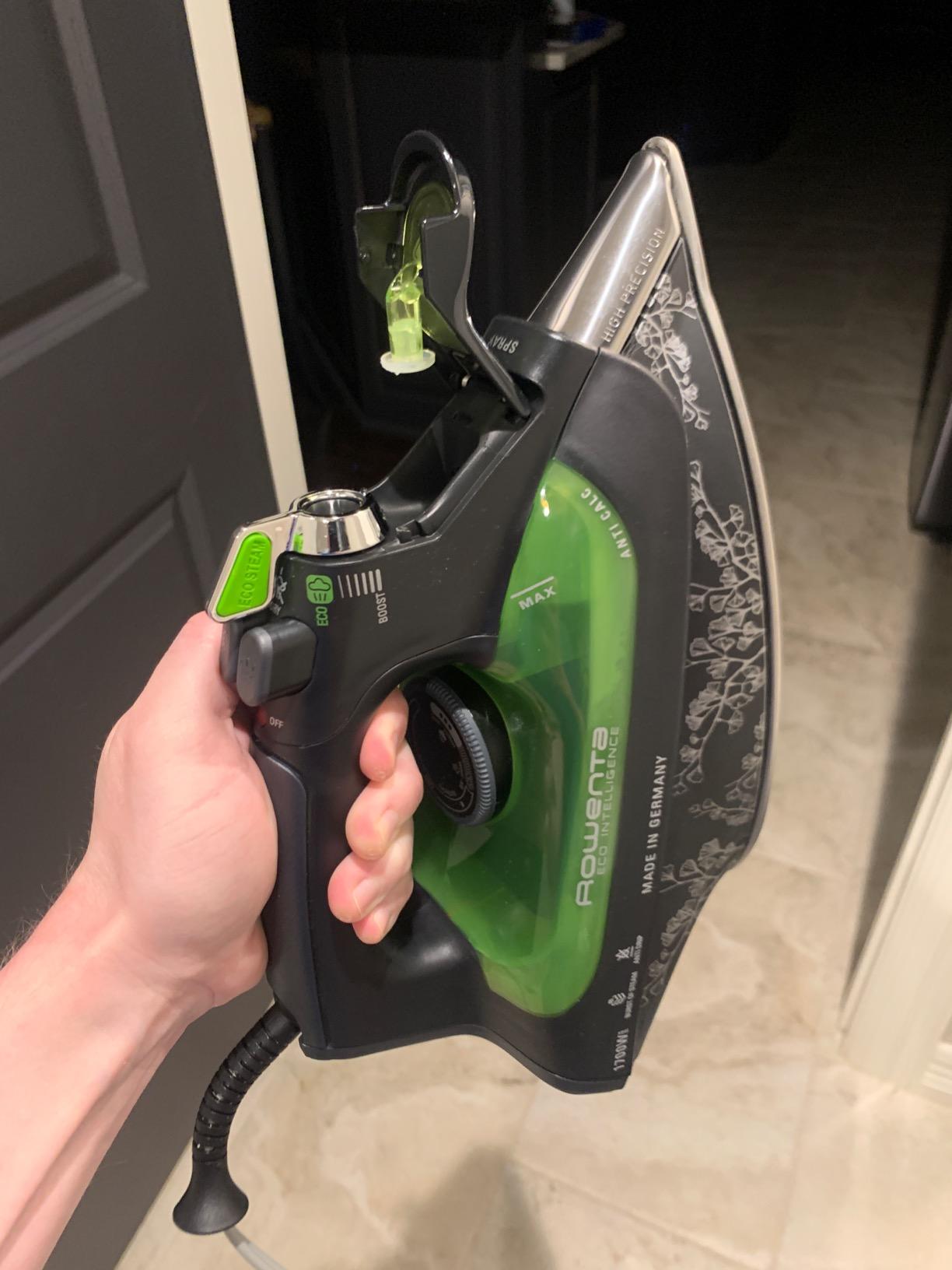 Different Steam Settings:
The exclusive steam optimization system offers three different settings, including a dry position for the perfect finish; Eco position for delivering optimal steam output while saving energy; Boost position for additional variable steam for ultra-thick fabrics and stubborn creases.
Rowenta patented 3De soleplate:
The unique 3De soleplate concentrates the steam output and reduces the loss of steam, so less steam is required—and less energy is consumed. The soleplate is made of stainless steel. The 400 microholes for perfect evenly steam distribution makes it easy to de-wrinkle your clothes.
Auto-shutoff
Rowenta DW6080 three-way automatic shut-off for safety—the iron turns off automatically if left unused after 8 minutes in the upright position or after 30 seconds in the horizontal position or tipped over.
Anti-Calcium
This function helps a lot when your water supply is hard water. integrated anti-scale system for the extended life of the iron. The calc-away valve automatically collects scale in the boiler preventing calcium build-up and impurities. It maintains performances and increases the lifetime of the iron. It helps to remove brown water coming out of your iron.
Water Tank capacity
Rowenta DW6080 has a water tank capacity of 10 Oz which is heated up within 60 seconds. A larger water tank helps you to iron more clothes without refilling the reservoir. It is pretty convenient when you have got a lot of clothes to steam. You can check out other Rowenta irons reviews here.
Conclusion
Thus, if you're on the lookout for best clothing iron, a good idea is to go with the Rowenta DW6080, as the features which it has on offer are not available in most of the other steam irons. It makes the entire steam ironing experience much easier and effortless for you, as stated in our Rowenta DW6080 Review above.